Here are the printable Bayern Munchen coloring pages. You can color the big circle blue. The background behind the word Bayern is red. The checkerboard is blue, like the big circle.
FC Bayern München, also called Bayern Munich, is a German sports club. It is known for its professional soccer section, which participates in the Bundesliga.
Free Bayern Munchen Coloring Pages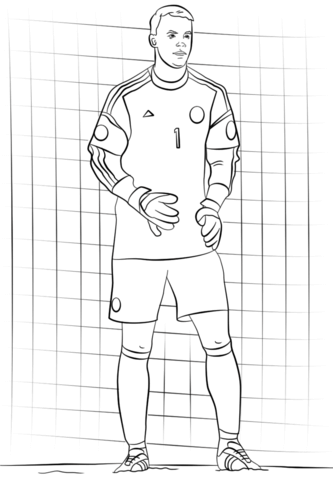 FC Bayern Munich was founded on February 27, 1900, by a group of eleven dissidents from MTV München, who decided to create their club in a restaurant called "Gisela" located in the center of Munich. The players initially chose to wear blue and white but later switched to red and white.
The club won its first title by beating Eintracht Frankfurt 2 goals to 0 in front of 55,000 spectators in Nuremberg. When the players presented the "Viktoria" to the public, the reception in Munich was incredible.
But the Nazi government accused the club of being a "Jewish club," and it was soon banned from national competitions.
Almost all the members were forced to leave the club, like the symbolic president Kurt Landauer, who resigned on March 22, 1933.
He went into exile in Switzerland after two terms at the head of Bayern Munich. He returned in 1947 for a third and final term as president until 1951. He died in 1961.
Today, he is considered the father of the modern Bayern Munich. He had to wait until the end of the war, and the support of the American forces occupying Bavaria, to get out of this painful period which would lead to reconstruction until the end of the '60s and the most glorious peak.
The club entered the top flight in 1963 and almost at the same time hired Franz Beckenbauer, Sepp Maier, and Gerd Müller, three promising young players who would later make the Bavarian club happy.
At that time, TSV Munich 1860 was the biggest club in the city, but Bayern soon made a name for itself, both nationally and in Europe, winning two Pokals in 1966 and 1967, the Cup Cup in 1967, and a magnificent league and cup double in 1969. Bayern took the number 1 spot in Munich.
The Allianz Arena in Munich is a soccer stadium in the northern part of the city and the home of the FC Bayern München soccer team.
The stadium location is in Fröttmaning in the north of Munich. The maximum capacity is 75,000 seats (70,000 seats during international matches).
Download Bayern Munchen Coloring Pages Pdf