Are you getting excited about summer vacation? Here are some fun and free Wind Surfing coloring pages. You can have a fun holiday while coloring these images.
Windsurfing is a water sport that combines the disciplines of sailing and surfing. The sport emerged in California in the 1960s and quickly spread to many parts of the world.
Printable Wind Surfing Coloring Pages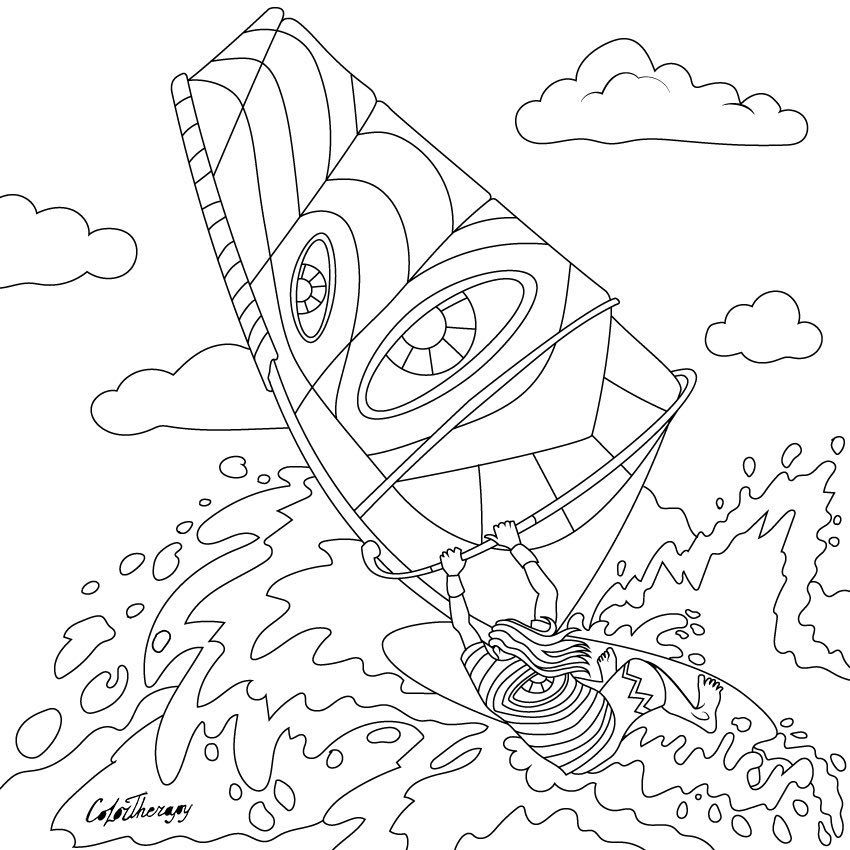 Since the beginning of windsurfing, the equipment has evolved considerably. Manufacturers have had to lighten each element to gain maneuverability and accessibility because windsurfing has the reputation of being a physical sport.
Carbon and polymer materials have made it possible to gain lightness. Boards have become specialized according to the disciplines (speed, waves) and the level of practice: the boards are getting wider for more stability.
The rigs have diversified to respond to each type of weather condition. After the appearance of Kitesurfing, a new effort was made, and we saw the arrival of boards with extrusions at the back to reduce the wetted surface.
Despite appearances, the adjustments are exact, in the order of a millimeter for the luff tension or a centimeter for the position of the mast foot, to name.
Still, a few obtain the desired behavior (holding in strong winds, passing through chop, etc.). A board measures between 2.20 and 2.90 m for a volume, from 60 to 260 L, determining its buoyancy.
The size of the sail varies according to the size of the windsurfer and the strength of the wind: from 1.1 m² for children to 12.5 m². The mast is fiberglass or carbon cone between 3.40 and 5.80 meters.
The World Windsurfing Championships are organized by the PWA (Professional Windsurfers Association). They consist of numerous events around the world throughout the season.
Each is worth a certain number of points in the different windsurfing disciplines (slalom, freestyle, and waves).
Unlike slalom, which is more efficient, freestyle and waves are more impressive acrobatic tricks (even if freestyle is done on the water without waves).
The windsurfer with the most points at the end of the season is crowned world champion.
Other organizations such as the International Windsurfing Association also organize races (called "races") worldwide.
Although they can occur in the United States, Algeria, or Indonesia, Europe is the most successful. Several competitions are frequently held in Portugal, Denmark, Greece, Croatia, Poland, and Slovenia.
Similar to surfing, windsurfing is a very spectacular sport. The show is always between figures, downhill and uphill waves, and few spectators remain indifferent.
On the other hand, it requires excellent technique and a blameless physical condition to have fun on the water.
Despite its visual and spectacular side, windsurfing remains massively unknown in our country.
But it has been understood for a long time that in Belgium, putting the sport(s) forward and investing in it is not a priority.
Download Wind Surfing Coloring Pages Pdf