On this page, you will find Philadelphia Phillie's coloring pages. Also, the pdf version can be found below. So, prepare your crayons and color them.
Philadelphia Phillies is an American professional baseball team based in Philadelphia that plays in the National League (NL).
Free Philadelphia Phillies Coloring Pages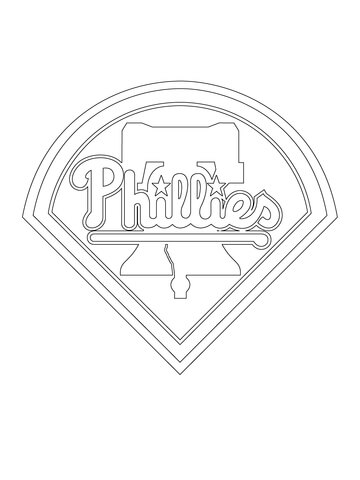 The Phillies have won seven NL pennants and two World Series titles (1980 and 2008) and are the oldest single-name, single-city franchise in American professional sports.
Founded in 1883 as the [Philadelphia Quakers], the team replaced the [Worcester Worcesters] in the National League that year, posting a negative 17-81 record in 98 games.
To reverse these setbacks, the team hired future Hall of Famer Harry Wright to manage the team and changed its name to its current name ("Phillies") to honor its home city.
With a new stadium opened in 1887 (the tiny Baker Bowl eventually called "the ridiculous ballpark in America"), the Phillies of the 1890s raised the number of wins per season to 70.
Sadly, they were not enough to contend for the league title. Ed Delahanty, who would later become a Hall of Famer, played for the team during inconsistent results.
In 2019, the franchise used a straightforward logo with just "Phillies" in front of a Liberty Bell. This image was taken from the previous version, a sign in which there was also a stadium with a red border around the perimeter in addition to the bell.
This choice reflects the team's national spirit and desire to convey its roots accurately, allowing it to cling tenaciously to the past and look confidently to the future.
The highlight of the emblem is two stars that replace the dots in the letters "i". The frame "ll" very effectively.
Download Philadelphia Phillies Coloring Pages Pdf