On this site, you can get Los Angeles Angels coloring pages. Besides that, the pdf version is available to download. So, prepare your crayons and color them.
Los Angeles Angels is a Major League Baseball team that plays in the American League West Division, initially known as the California Angels and the Anaheim Angels.
Los Angeles Angels Coloring Pages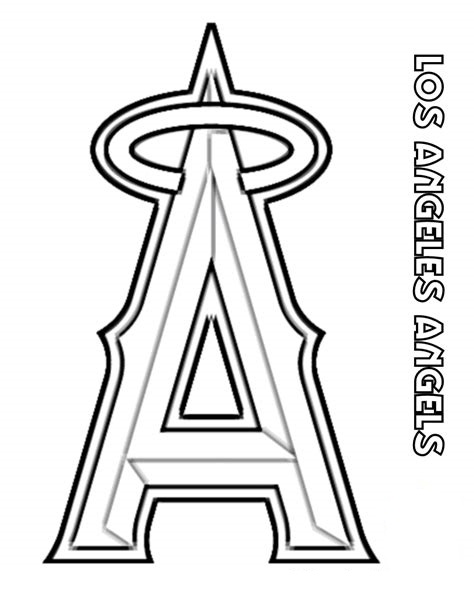 The team was founded due to the expansion of the American League in 1961. They were the first team to be born in California since the San Francisco Giants and Los Angeles Dodgers, who had been in that state since 1958, came from the country's east coast.
Their first game took place on April 11, when they defeated the Baltimore Orioles with a 7×2 score.
Their first manager was Bill Rigney, under his tutelage they played for, who led them to a record of 70 wins and 91 losses, finishing eighth in the American League standings, when New York was the champions.
The team has always been called "Angels," which has varied during the franchise's history. It was born as Los Angeles Angels.
In 1965 it was renamed California Angels, then in 1997, it underwent a new change to be renamed Anaheim Angels. In 2005 it was reborn as Los Angeles Angels of Anaheim. Finally, in 2016, it recovered the original name of Los Angeles Angels.
The name "Angels" was suggested by Gene Autry, to whom the franchise was granted, as a tribute to the Los Angeles Angels team that belonged to the Pacific Coast League, which played in South Central Los Angeles from 1903 to 1957.
The Seraphim, as they are also called, have remained in the Anaheim area since their foundation. Anaheim is a city located in Orange County on the outskirts of Los Angeles, in the U.S. state of California.
It is home to the Disneyland Resort. During the construction of their stadium, they had to play their home games at Dodgers Stadium.
The current version repeats the previous one from 2005-2015. It was adopted after the approval of a different team name – a shorter name.
Since then, it has not changed once because it meets the main criteria: modernity, laconicism, and capacity. In other words, despite the minimum of details, it conveys a maximum of information.
The emblem contains an image of a large "A". There is a halo at the top of the massive letter, which remains a clue of belonging to the "angels".
In the central part of the sign, sharp protrusions are found in Old English symbols. Small notches are visible in the lower area. The whole letter is framed along the edge with a dark blue band with a halo.
Download Los Angeles Angels Coloring Pages Pdf