Halo there! Today will be special because you will meet the legendary NBA player. Here are the printable Kareem Abdul Jabbar coloring pages.
Kareem Abdul-Jabbar is a former basketball player. He played 20 seasons in the National Basketball Association (NBA) for the Milwaukee Bucks and Los Angeles Lakers.
Free Kareem Abdul Jabbar Coloring Pages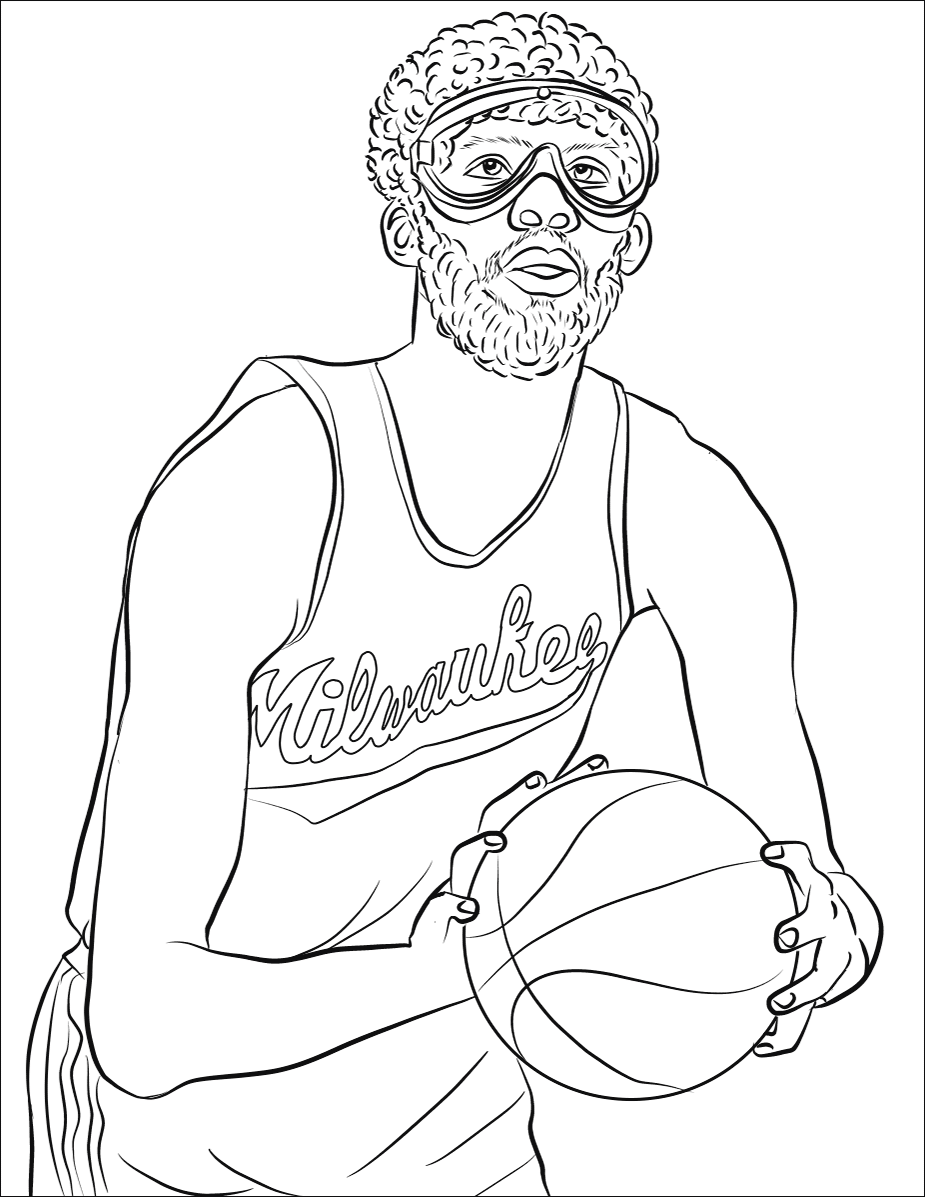 Kareem Abdul-Jabbar was a record-breaking six-time NBA Most Valuable Player (MVP), a record-breaking 19-time NBA All-Star, 15-time All-NBA selection, and 11-time NBA All-Defensive Team Member.
On April 16, 1947, Kareem was born in New York City, New York, USA. He will be 72 years old in 2019. He celebrates his birthday on April 16 every year. His full names are Ferdinand Lewis Alcindor Jr.
He is the father of five children; three sons and two daughters. The children are Kareem Abdul-Jabbar Jr, Habiba Abdul-Jabbar, Sultana Abdul-Jabbar, Amir Abdul-Jabbar, and Adam Abdul-Jabbar.
Alcindor's presence allowed the 1969-70 Bucks to claim second place in the NBA's Eastern Division with a 56-26 record (improved from 27-55 the previous year).
Alcindor was an instant star, ranking second in the league in scoring (28.8 ppg) and third in rebounding (14.5 RPG), for which he was awarded NBA Rookie of the Year.
Until Jayson Tatum in 2018, Alcindor would be the only rookie to record ten or more games with more than 20 points scored during the playoffs. The following season, the Bucks acquired All-Star guard Oscar Robertson.
Milwaukee recorded the best record in league with 66 wins in the 1970-71 season, including a description of 20 consecutive wins. Alcindor received his first of six NBA Most Valuable Player Awards, along with his first scoring title (31.7 ppg).
On May 1, 1971, he adopted the Muslim name Kareem Abdul-Jabbar (Arabic: كريم عبد الجبار, Karīm Abd al-Jabbār), its translation more or less 'the noble, servant of the Almighty [i.e., servant of Allah] ".
Abdul-Jabbar has remained relatively injury-free throughout his NBA career, but he has broken his hand twice. The first injury occurred during a pre-season game in 1974.
When he was bumped hard and scratched his eye, this angered him enough to hit the upright of the basket stand. After missing the first 16 games of the season, he returned and began wearing protective eyewear.
Download Kareem Abdul Jabbar Coloring Pages Pdf