Bayer 04 Leverkusen is a German soccer club founded on July 1, 1904. It was established by employees of the pharmaceutical company Bayer and based in Leverkusen.
Now, you can see the club through our coloring pages. Here are the free printable Bayer 04 Leverkusen coloring pages. Get the images and color them as you like.
Free Bayer Leverkusen Coloring Pages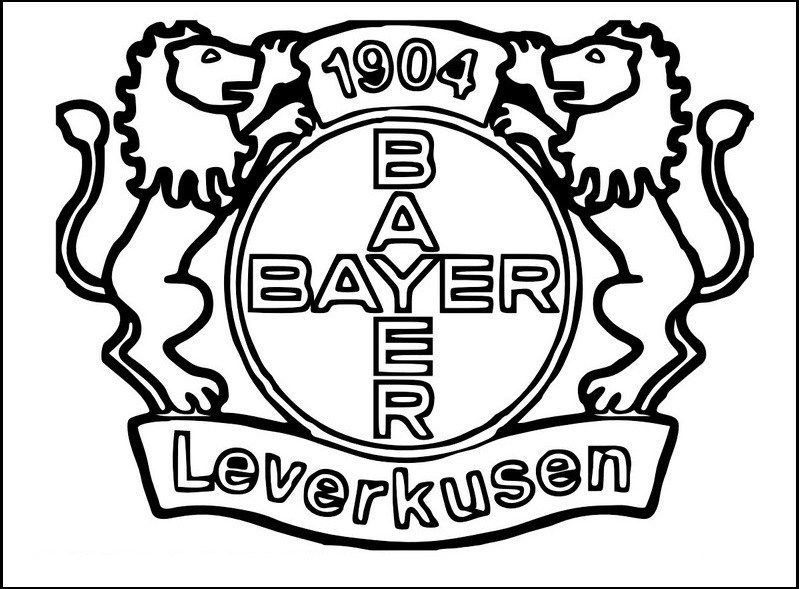 The uniform is red with black piping and serves as a home kit at the BayArena. Bayer 04 Leverkusen Football Club received the joking nickname Neverkusen from fans because of sporting failures.
People remember more than how they won the German Cup or the UEFA Cup but that they failed to get a single title. Since 1906, the team has only occupied second place in the Bundesliga.
However, Bayer has an excuse: it is located in the small city of Leverkusen and is forced to compete with neighboring clubs, which have multimillion-dollar support. So it only keeps the money from its sponsor, the pharmaceutical company Bayer AG.
At the end of the 20th century, the team returned the lion, which was present on the first emblem. And not one, but two simultaneously, so that they are reflected the right and left of the "Bayer Cross".
The lions are not yellow as they once were, but red, surrounded by black lines. In turn, yellow is used for the two ribbons located at the top and bottom. They indicate the year of creation and the hometown of the club.
The colors have become much brighter, and the inscriptions' legibility has increased. The designers did not change anything else.
Bayer 04 Leverkusen soccer team played its first game in 1907. It had a slightly different name and a different emblem: a large white circle, a globe, and a lion with a staff.
Only the lions have survived in the current graphic sign, but they are given a secondary role. The centerpiece is the "Bayer Cross": the two words "BAYER" with the standard letter "Y". It is the famous symbol of the pharmaceutical company of the same name.
Download Bayer Leverkusen Coloring Pages Pdf