Do you look for fun activities to do? So, come here! We have a selection of Eintracht Frankfurt coloring pages. You can get these images for free. Please choose your desired pictures and color them.
Eintracht Frankfurt is a soccer club that competes in the German Bundesliga. The stadium of Eintracht Frankfurt is Deutsche Bank Park. Deutsche Bank Park has a capacity of 51,499 spectators.
Free Eintracht Frankfurt Coloring Pages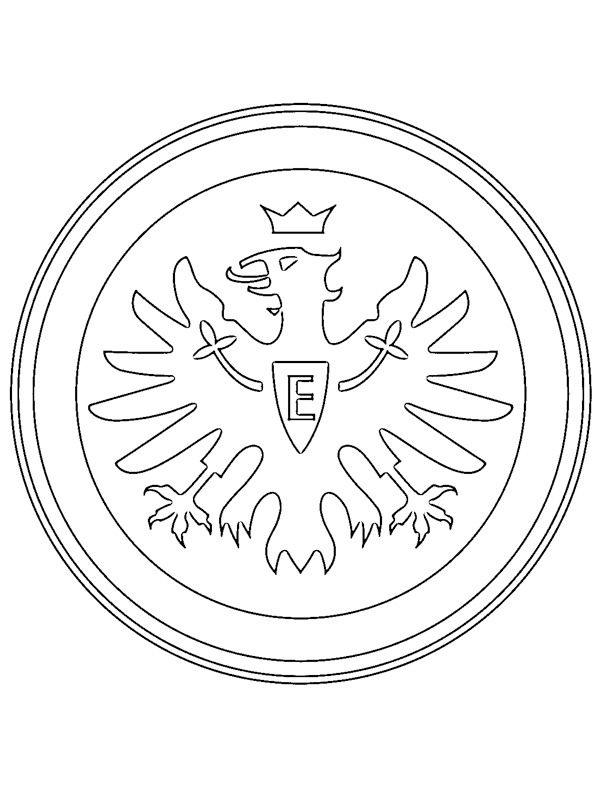 Eintracht Frankfurt was founded on March 8, 1899. The club is also called SGE, Die Adler, and Launische Diva. "SGE, Die Adler and Launische Diva" club colors are black, white, and red.
Eintracht Frankfurt was formed in 1920 by mergers of several sports clubs from Frankfurt. In its first year, Eintracht Frankfurt immediately became champions of the North Main league.
When the Bundesliga was founded in 1962, Eintracht Frankfurt finished third the first year and reached the cup final (lost). In 2011, Eintracht experienced a low point when relegated to the 2. Bundesliga.
One season later, Eintracht was already back at the highest level and has often placed themselves as subtoppers in the Bundesliga. As a result, they have also frequently participated in the Europa League in recent years.
Famous former players of Eintracht Frankfurt are: Alfred Pfaff, Joachim Löw, Andreas Möller, Timo Hildebrand, Marko Marin, Jupp Heynckes, Jay-Jay Okocha and Marco Fabián.
The biggest rival of Eintracht Frankfurt is Kickers Offenbach. This club is located on the other side of the river Main.
In 1959, these teams faced each other in the final for the German national championship (precursor to the Bundesliga).
Eintracht Frankfurt won this "Main derby." Other rivalries Eintracht Frankfurt has with Mainz, Kaiserslautern and Darmstadt 98.
Eintracht Frankfurt and Darmstadt match is also called the "Hesse derby". Eintracht also has friendly ties with clubs. A good example is a friendship with Oldham Athletic from England.
The coat of arms of Eintracht is based on the city coat of arms.
The club coat of arms is derived from the coat of arms of Frankfurt, which itself refers to the one-headed imperial eagle from the 13th century.
The top evolved slowly over time, showing little significant change until 1980 when a stylized eagle in black and white was chosen to represent the team.
In 1999, the club decided to re-adopt a more traditional eagle crest in Eintracht's centenary year. Since 2005, Eintracht has had a live mascot, a golden eagle named Attila from the nearby Hanau Zoo, who has currently been present at over 200 different games.
Eintracht's eagle (Adler) through the years: the logo of Frankfurter FV 1911, the red eagle of TuS Eintracht Frankfurt 1920, Sportgemeinde Eintracht Frankfurt 1967, and the predominantly black crest in use ca. 1980-1999 before the more traditional style logo of today was adopted.
The club has the nickname " Die Adler " ("The Eagles"), which is derived from their crest. A handle still popular among supporters is SGE, taken from the old official name of the club S port g Gemeinde E Eintracht (Frankfurt), which roughly translates into English as "Sports Community United.
Launische Diva ("Moody Diva") was most often heard in the early 1990s when the club comfortably beat top teams and surprisingly lost to lesser clubs.
This nickname was also used to refer to what was considered the financially dubious work of some club presidents, including, for example, not recording the transfer fee of Hungarian star player Lajos Détári in club books.
Heribert Bruchhagen's (2003-2016) government left these underhanded practices to the past.
The nickname Schlappekicker ("Slipper Kickers") has been around since the 1920s when J. & CA Schneider was a major funder of the club and helped push it to national relevance.
J. & CA Schneider is a local manufacturer of shoes and especially slippers ( called Schlappe in the regional Hessian dialect),
Download Eintracht Frankfurt Coloring Pages Pdf