Here are the printable West Ham United coloring pages. The coloring pages are available at free charge. Also, the pdf version is available to download.
West Ham United Football Club. Soccer club from England, from London, founded in 1895 and plays in the English Premier League.
Free West Ham United Coloring Pages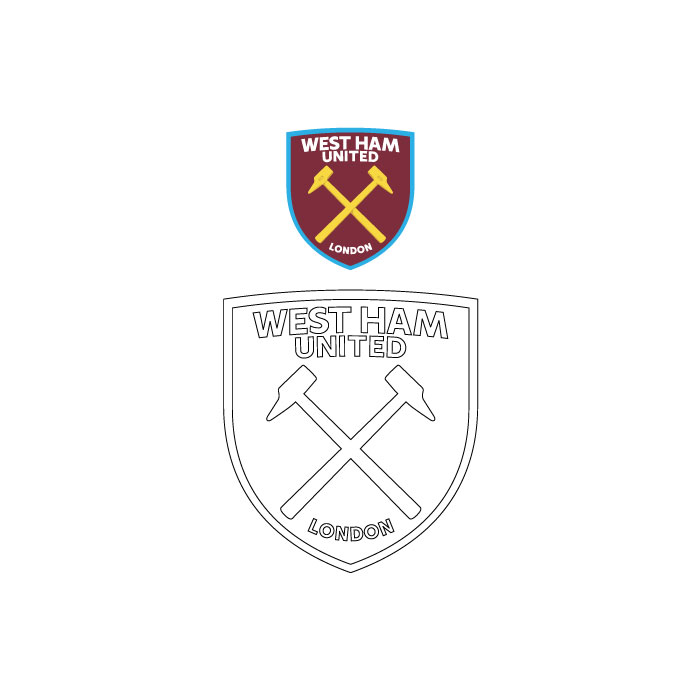 The club was founded on July 5, 1900, following the dissolution of Thames Ironworks FC, which had internal problems with the operation and financing of the club.
In the heart of the sixties, this period will remain the first golden age of the Hammers, with three of them, Bobby Moore, Geoff Hurst, and Martin Peters, who will be world champions in 1966.
They reached the final after a campaign triumph over La Gantoise, Sparta Prague, Lausanne-Sports, and Real Zaragoza.
In the final, they faced the German TSV 1860 Munich and won the title thanks to a double from Alan Sealey (2 goals to 0).
It must be said that the emblem has not changed since its creation. Its initial style and colors have been practically maintained. These correspond to the official colors of the FC, that is to say, blue and burgundy.
No one can say precisely why these colors were chosen for the logo, but there are several anecdotes about it.
The colors of the soccer club were borrowed after the members of the FC "Thames Ironworks" were influenced in their ranks. The colors of the shirts of this team were blue and burgundy.
West Ham United is one of the most iconic teams in England. Its international dimension escapes even the soccer world, knowing that it has been the protagonist of many films and important journalistic reports on its great hobby.
This east London club moved to the Olympic Stadium in 2016 after the demolition of Upton Park, its former stronghold and the place where West Ham games were played since 1904.
The nickname of their fans is "The hammers", tools that appear on the club's crest and come from their foundation at the Thames Ironworks.
Most cinephiles will know the club thanks to the famous film by Lexi Alexander, "Hooligans", a movie that deals with the social reality behind the English soccer fans and uses the West Ham United hooligans as protagonists.
But if the "hammers" are famous, it is mainly for their soap bubbles, an element that is never missing during the home games and as renowned as the club itself.
Download West Ham United Coloring Pages Pdf