Scotty Maurice Pippen, better known as Scottie Pippen, is an American former basketball player and sports analyst. Now, you can see him here.
There are Scottie Pippen coloring pages below. You can get them all on free charge. Let's choose your images and print them.
Free Scottie Pippen Coloring Pages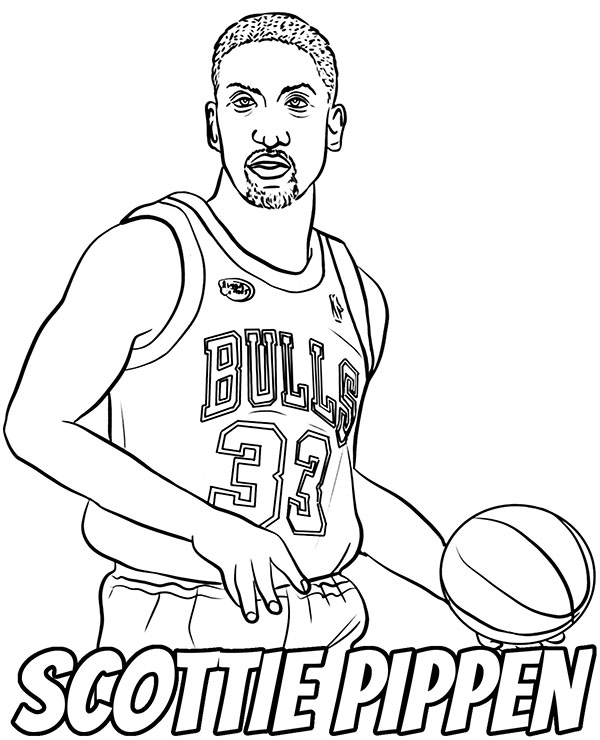 Scottie Pippen was the mythical small forward of Phil Jackson's Bulls and Michael Jordan's squire. One of the 50 best players in NBA history.
He was No. 5 in the 1987 draft and played for the Chicago Bulls, the Houston Rockets, and the Portland Trail Blazers.
He made history with the Bulls' six rings in the 1990s and was selected seven times as a league's best five members.
He was also part of the US National Team and won two Gold medals in the 1992 and 1996 Olympics. Pippen is one of the protagonists of the Netflix documentary The Last Dance.
However, early in his professional career, Scottie Pippen had a weakness: he often did not perform well in crucial games or the decisive moments of the games, in the famous money time.
In 1994, he again drew criticism for refusing to come back into the game 1.8 seconds before the end of a crucial playoff game because he disagreed with coach Phil Jackson about strategy.
Despite the bad image he gave on that occasion, no one doubts that his brilliant play, especially on defense, is a crucial element of the Bulls' success.
Michael Jordan will often say that he could not express his talent with the Bulls if he did not have Pippen as a teammate.
Scottie Pippen's last game with the Bulls, in 1998, could sum up his career. The Chicago Bulls faced the Utah Jazz in the NBA Championship game.
In the decisive Game 6, Pippen delivered the most courageous performance of his career. Diminished by lumbago, he was forced to sit on the bench for a long time.
Nevertheless, he overcame his pain, came into the game, was unstoppable on defense, and was one of the leading architects of the Bulls' success, winning the NBA Championship for the sixth time in eight years.
However, his efforts were overshadowed by Jordan's improbable last-second basket to give his team the victory (87-86).
Pippen then leaves the Bulls. He played one season with the Houston Rockets four years with the Portland Trailblazers without success. In 2004, he returned to finish his career with the Chicago Bulls.
Scottie Pippen has an outstanding record of achievement. He won six NBA titles with the Bulls (1991, 1992, 1993, 1996, 1997, 1998).
He also won two Olympic gold medals: he shone in 1992 as part of the "Dream Team" in Barcelona; then, in 1996 in Atlanta, he remained, along with Shaquille O'Neal in particular, one of the key players of the US team that won the title against Yugoslavia (95-69). He also played in the NBA All-Star Games seven times.
Download Scottie Pippen Coloring Pages Pdf