On this page, you will find the printable River Plate coloring pages. Luckily, we also have selected the pdf version for you below. So, get the images and color them.
Club Atlético River Plate is a sports entity of Buenos Aires, founded by the union of two clubs known as Santa Rosa and La Rosales, where it was agreed to name it after several proposals for River Plate.
Free Club Atletico River Plate Coloring Pages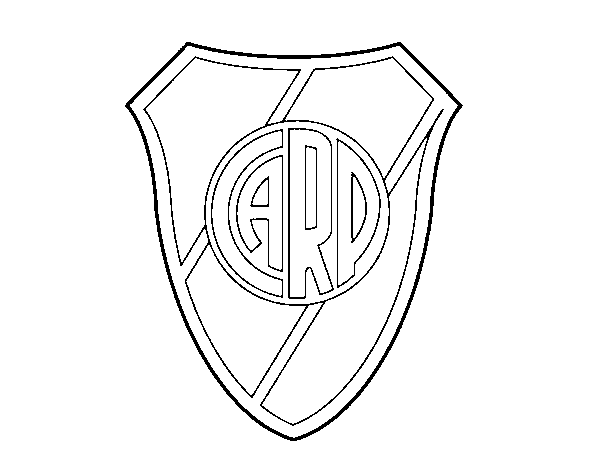 On May 25, 1901, the club was founded by two clubs, "La Rosales" and "Santa Rosa".
In the neighborhood of La Boca, the two rival teams played against each other for a year in Buenos Aires until they decided to unite.
The workers of the Wilson coal factory, who played either for La Rosales or Santa Rosa, joined their efforts to find a joint club that would give them a unique identity.
A first name was proposed, Juventud Boquense, but it did not meet with unanimous approval in a climate where soccer was still strongly Anglo-Saxon inspired.
José Corpucci's proposal won out, and the club was named Club Atlético River Plate, a tribute to the Rio de La Plata; River Plate is the translation.
The first president was Leopoldo Bard, a doctor and future deputy of the UCR (Unión Cívica Radical) in the 1920s.
The club adopted the colors of the flag of the city of Genoa (red and white), where many of its founders were from.
After playing its first game against members of the Faculty of Medicine, the club took up residence in the Dársena Sud.
A few blocks from where Boca would land a few years later, but would gradually migrate north, away from the barrio of La Boca.
Jose Bacigalupi, president of the institution in the years that followed, said: "River is not a neighborhood club, it is the club of a city.
Under his presidency, the club moved to the Recoleta area, renting the land to build its stadium.
The Estadio de Alvear y Tagle would host Real Madrid on their South American tour and the 1929 Campeonato Sudamericano.
The rental period lasted several years, with rates increasing (the rent went from $500/month in the beginning to $3,530/month in 1935 during the last contract).
In the meantime, Antonio Vespucio Liberti took over the club's reins. He would remain at the head of the club for more than 20 years (not consecutively) and became friends with Alberto J. Armando, president of Boca Juniors.
Together they shared the idea of clubs as entertainment companies. Liberti pushed the concept with his River to the entrance of professionalism.
Download River Plate Coloring Pages Pdf