Sporting Club de Portugal, commonly known as Sporting Lisbon outside of Portugal, is a Portuguese multi-sports club based in the Portuguese capital of Lisbon.
Today, you can get Sporting coloring pages here. Please get closer and print the images. After that, you can color them with your favorite colors. Happy coloring.
Sporting CP Coloring Pages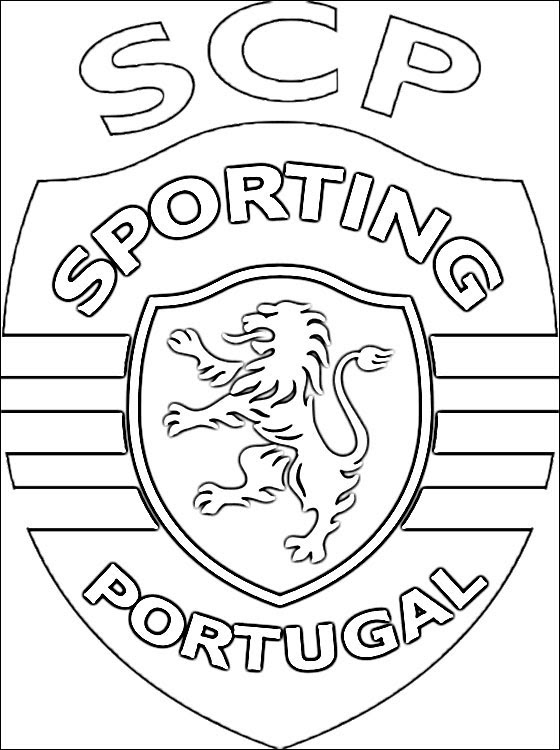 Although they compete successfully in several different sports, Sporting is best known for its association soccer team.
Sporting Clube Portugal is often referred to as Sporting Portugal, or, wrongly, by foreign journalists as Sporting Lisbon.
It is a soccer club founded in 1906 and, since its participation in the first national championship in 1934, has never left the elite.
The club's colors are white and green, and that's why all the table footballs in the city have red players (benfiquistas) on one side and white and green players on the other.
Sporting Portugal fans are called sportinguistas, and they refer to the club's players as Leões, the lions.
The club has won 18 championships, mainly in the 1940s and 1950s, 17 Portuguese Cups victories, 2 League Cups, and 8 Portuguese Supercups.
The team won the European Cup Winners' Cup (1964) and the Iberian Cup (2000) at the international level.
Sporting Clube Portugal plays in a stadium called the Estadio José Alvalade XXI, inaugurated on August 6, 2003, during Sporting and Manchester United.
That day, a young prodigy revealed his talent to the world: Cristiano Ronaldo. A few days later, he signed for Manchester following this performance!
The stadium has 50,076 seats, it also includes the Alvaláxia shopping center, the Sporting CP headquarters, and it hosts some concerts, such as the Rolling Stone's one in 2009.
Located in the neighborhood of Alvalade, the name of one of the club's founders also serves as the name of the stadium.
The building is often mocked by Benfica fans who see in the tiles used to cover it and in the stadium's shape…a toilet! If you talk soccer with a Portuguese person, you will soon know which club he is for by mentioning this stadium.
Cristiano Ronaldo's reputation is mainly due to the excellence of its training center, which has produced some of the biggest stars in Portuguese soccer in recent decades.
Opened in 2002 and located in Alcochete, a suburb of Lisbon, it is considered one of the best training centers in the world.
You only have to look at the list of some of the players that have come out of it to get an idea of its quality: Louis Figo, Cristiano Ronaldo, Nani, Ricardo Quaresma, or Rui Patricio.
Download Sporting Lisbon Coloring Pages Pdf