Color these Lebron James coloring pages with your family or friends. The wide selection of Lebron James coloring pages is ready to color and print out!
You can color these free coloring Lebron James with pencils or whatever you want. We hope it will help you assert your artistic personality.
Free Lebron James Coloring Pages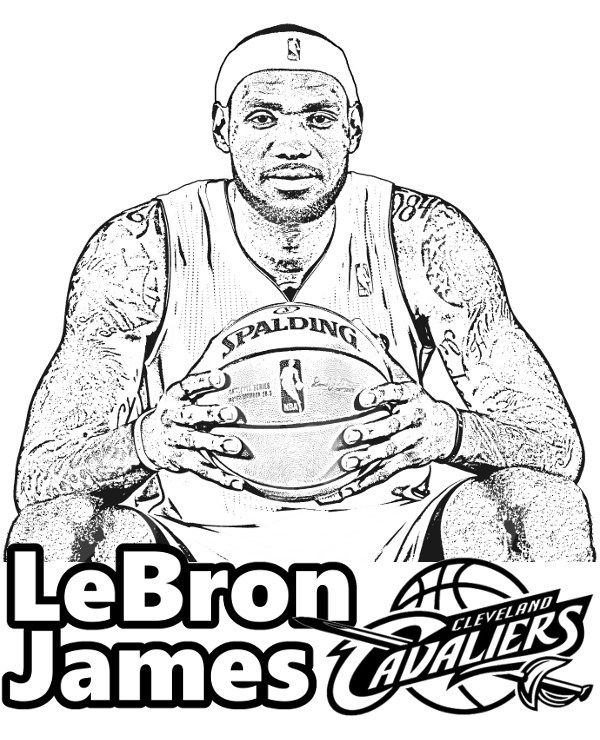 James was born when his mother was 16 years old. Since his birth, his father wanted nothing to do with him, abandoning his mother because of drinking problems, so he was raised only by her.
He had a difficult first few years because his mother could not find a job, and he took up a nomadic life in Akron.
His progenitor gave him a ball and a hoop, showing his ability to play basketball early. Despite his mother's height of 5'6″, LeBron James was tall at a young age.
When he entered high school, he was ashamed of family life and found it hard to make friends. He played basketball and soccer, which he was good at because of his athletic build.
His coach, Frankie Walker, had a significant influence on his life. Given James' problems at school, Walker arranged with Lebron's mother for Lebron to move home with his family to have a more stable environment, obtaining good school results.
Walker began teaching Lebron to play basketball at the age of nine, coaching him for three years. He returned home 18 months after separating from his mother, but he returned to Frankie Walker, given the economic problems.
He made a competitive team with four friends, and given the team's potential and camaraderie, four of the team's members, known as the Fab Four, decided to enroll at St. Vincent-St. Mary High School to continue playing together.
They went on to increase the popularity of the high school during their years there. Their talent was hidden by their mentors so that they would finish their studies first.
He chose to play with the number 23 because it was the number of his idol Michel Jordan. Other idols were Penny Hardaway and Jason Kidd.
At the age of 17, he was already 2.00 meters tall. His high school team was the Fighting Irish. During his High School career, he scored 2,657 points, 892 rebounds, and 523 assists, attracting the attention of great sports stars such as Shaquille O'Neal, and some of his games were nationally televised.
He wanted to enter the NBA Draft without having finished high school but was not allowed. He was named Mr. Basketball three consecutive times, 2003 High School Player of the Year, and other MVP trophies.
With the American national team, he won the bronze medal at the 2004 Athens Olympics, the 2007 FIBA Americas Championship in Las Vegas, bronze at the 2006 World Cup in Japan, and gold at the 2008 Beijing and 2012 London Olympics.
In his early years, he broke many records of precocity, as the youngest player to win the All-Star MVP award, with 21 years and 51 days.
His nicknames were King James, The King, and The Chosen One. In 2008, the documentary film of his life, More than a game, was released.
James had three children with his high school sweetheart Savannah Brinson. LeBron James Jr. was born on October 6, 2004. Bryce Maximus James, born on June 14, 2007, and Zhuri, born on October 22, 2014.
Download Lebron James Coloring Pages