Purim is popularly known as "the Jewish carnival", although it only has in common with carnivals the tradition of wearing costumes.
Today, you can get free Purim coloring pages here. The images are available at free charge. So let's choose the drawing you like below. Happy coloring.
Printable Purim Coloring Pages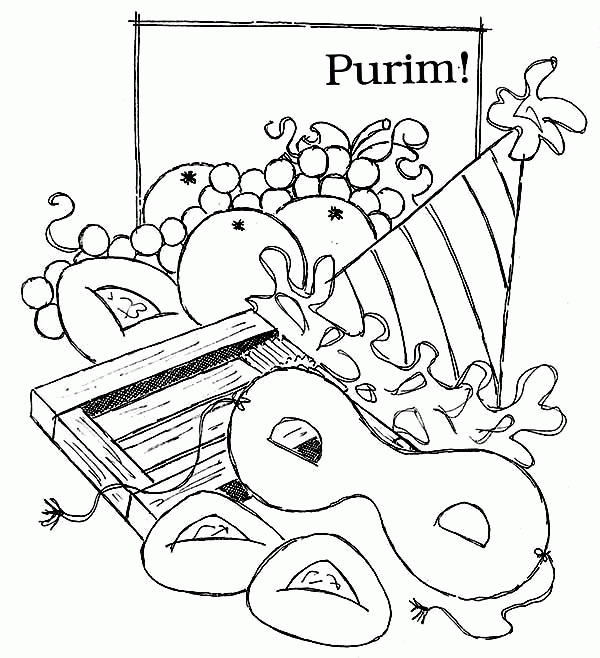 The celebration of Purim is the only occasion in the Jewish calendar when it is not uncommon to find Orthodox people usually dressed in black, wearing colorful accessories.
This holiday is popularly known as "the Jewish carnival", although it only has in common with carnivals the tradition of wearing costumes.
During the celebration, there will be crowded gatherings, with dances and costume contests. Also, eating triangular sweets is called "Haman's Ears" (reminiscent of the evilest character in this story).
They were sending edible gifts to friends, giving food or money to those in need, and narrating Megillat Esther, the story of the queen, a sort of Scheherazade, who won the king's favors and managed to save her people from death to which they were doomed.
Purim celebrated on the 14th of Adar, is the so-called month of joy in the Hebrew calendar. The story begins approximately 2350 years ago, when King Ahasuerus, ruler of the Persian Empire, held a great banquet to celebrate his three years of rule.
Many Jews, honored by invitation, participated in the banquet. During the celebration, the king requested the presence of his wife Vashti, who refused to comply with the royal request.
The king then condemned her to death and immediately set about choosing another wife, more generous than the previous one.
His advisors presented him with a selection from among the kingdom's young women, and the king chose Esther as his new sovereign. She, on the advice of her uncle Mordechai, concealed her Jewish origin.
Mordechai was an advisor to the king and discovered that his peer Haman was organizing a conspiracy against Achashverosh and slaughtering thousands of Jews living in Persia.
The critical piece that would help dismantle the plan would be his niece Esther, the new queen.
Purim recalls the dramatic events narrated in the Scroll of Esther: in Persia, during the reign of Ahasuerus (Ahashashverosh in Hebrew), the Jews were on the verge of perishing instigated by the plans of Haman, the royal advisor, who had issued a decree of extermination.
Luckily (Purim means "lots"), the Jewish people were saved by the intervention in the proceedings of Esther and Mordechai.
The character of Queen Esther in times like the present is highlighted more than in other times when this celebration practically passed by for non-observant Jews.
But in times when references are sought, according to Rabbi Isaac Sacca, president of the Menorah youth organization, "Esther's positive leadership emerges as a beacon for a new generation of women, who seek to defend the rights of oppressed minorities.
She is an example of courage and struggle. She represents all those women who pursue noble ideals and are willing to sacrifice their comforts for the sake of social welfare, justice, freedom and peace."
Download Purim Coloring Pages Pdf
,