Handball is a team sport, and unlike soccer, it is played with the hands. Now you can see this sport in the following Free Handball coloring pages Pdf to print.
Handball is a ball game played by two teams of seven (including a goalkeeper) on a covered rectangular field of forty by twenty meters, separated into two camps.
Handball Coloring Pages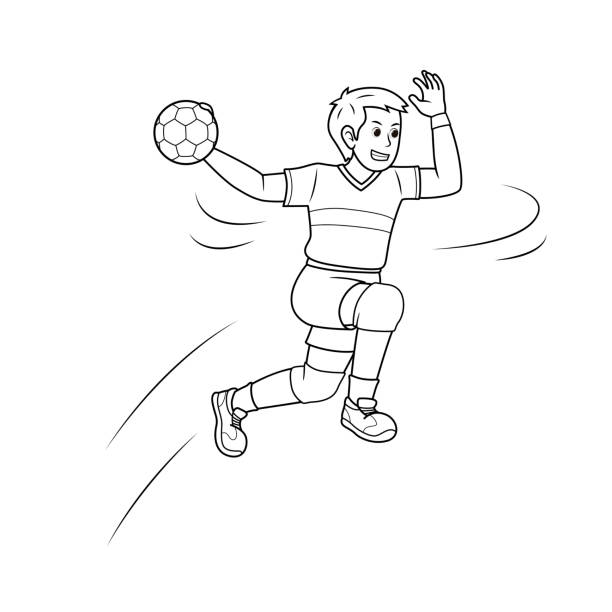 Each match is divided into two periods of thirty minutes each. The objective is to send the ball into the opponent's goal with the hand without putting the foot in the zone reserved for the goalkeeper.
Players can move by dribbling with the ball or taking a maximum of three steps with the ball in hand. They can pass the ball to each other.
But not in vain: the referees can force them to attack. The field players are divided into several positions:
Two wingers (right and left)
Two backs (right and left)
A center half (or center back)
A pivot
Handball is believed to have originated somewhere between Denmark and Germany in the late 19th century, which explains why it is pronounced differently than, for example, soccer. It has been on the Olympic program since 1936.
Historically, Russia, Sweden, and France are among the best nations in the men's discipline. For women, it is Norway, Russia, and Denmark.
The benefits of handball on the body are numerous. Sprinting, jumping, shooting, acceleration, counter-attacking: you work on your speed as well as your agility.
In attack, as in defense, the physical opposition provides you with a complete muscular workout. For self-confidence, the benefits are expressed through the collective.
Support, solidarity, cohesion: the team spirit reinforces yours. This opposition sport teaches you to assert yourself.
It is an educational sport with a solid mental dimension, especially if you keep the goals.
To expend your energy and progress physically and blossom in a team, handball is full of benefits. And to know if you have no medical contraindication, think of consulting your doctor!
Handball is a collective sport, fun and straightforward. You can learn the basics quickly if you like to run, jump and shoot with a ball.
Handball offers you a succession of explosive and intense phases rather than a long-distance cardio run.
It is also a more physically challenging contact sport than other indoor sports, based on speed, agility, and power balance.
If you like ball sports and team opposition, you'll find something to enjoy.
Download Handball Coloring Pages Pdf