On this page, you will see an image of carom billiards coloring pages for lovers of this sport. You may print this coloring page or download the pdf version to a hard drive.
Originally, carom billiard was also called billiard carambola. The carambola is the fruit of the carambola tree, a tree from tropical regions.
Free Carom Billiard Coloring Pages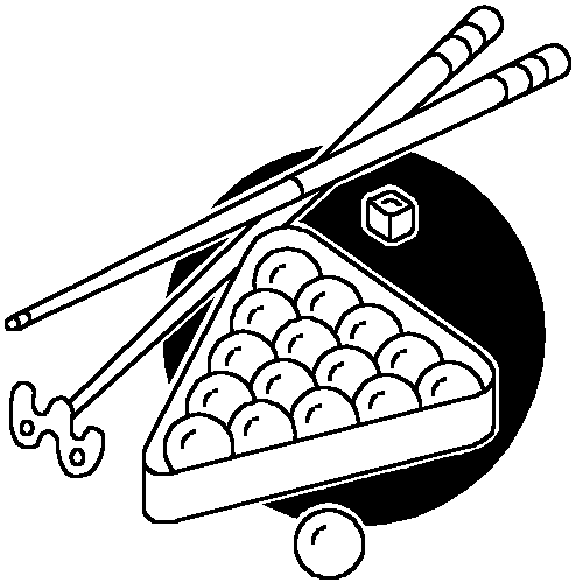 The word carambola, like the fruit, comes from Asia, from the Marathi karambal (Marathi is the language of a state of the Indian republic, Maharastra, whose capital is Bombay). The carambola fruit is orange or purplish and spherical.
In Europe, the origin of the word is Portuguese, carambola. The final is altered by bola, the ball in Portuguese, recalling the round shape of the fruit.
The Portuguese name was first used in Spanish and then became widespread at the beginning of the 17th century when it was used to designate the red ball of the billiard table due to its analogy in shape and color with the fruit.
In the 17th century, billiards was very widespread, and the centuries that followed only confirmed this craze. By extension, carom became the game of billiards played with this red ball and two other white balls.
From this fruit comes the name of the French billiard, the carambola, which is played with three balls on tables without pockets (without holes).
This distinguishes it from American billiards, blackball, or snooker, whose tables have pockets and many balls of different colors.
We thus pass from Asia to Europe, from the fruit to the red ball, from the ball's name to the name of the sport itself.
This extension continued until defining the French billiard gesture, which consists in touching two other balls with one's own at the same time. Thus, in billiards, we carambole.
Billiards is a trendy sport practiced by all social classes and ages, "caramboler" has become a symbolic meaning of colliding and has found its way into the automotive field by comparing balls and cars. It is the pile-up (action of hitting, of striking).
The same kind of inspired metaphor has found its way into a more familiar language to designate a flat road: it's billiards! With the idea that "it rolls" is flat smooth.
Many common expressions (ball in the head, to pass on the billiard table) come from billiards, a sport also at the origin of modern chemistry, and plastics.
Download Carom Billiard Coloring Pages Pdf