Here are the printable Hakeem Olajuwon coloring pages. Please prepare your markers to color these free Hakeem Olajuwon coloring pages.
Hakeem Olajuwon is an American basketball player of Nigerian origin, also known as Hakeem the dream. He preferred to play soccer and handball as a child, so he did not start playing basketball until he was a teenager.
Free Hakeem Olajuwon Coloring Pages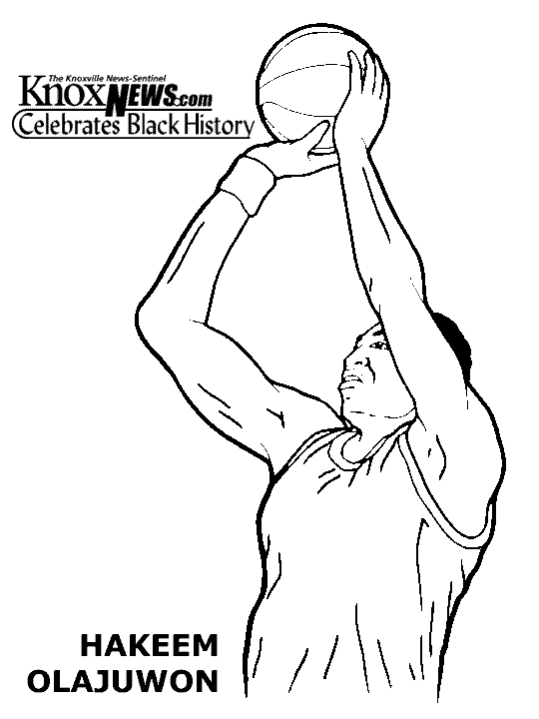 Hakeem Olajuwon immediately excelled in this sport and was called up by his national team. He entered the University of Houston (USA) in 1989.
He was selected by the Houston Rockets in the first round of the NBA (National Basketball Association) draft in 1984 and began to reap triumphs and awards.
He was the NBA's top rebounder in 1989 and 1990, the player with the most blocks in 1990 and 1992, and was voted NBA Defensive Player of the Year in 1993 and 1994.
He won two NBA titles with his team in 1994 and 1995, years in which he was also named the most valuable player of the championship finals.
With the United States national team (he had been a U.S. citizen since 1993), he won the gold medal at the 1996 Olympic Games in Atlanta.
During 1996 and the following year, Hakeem suffered two cardiac crises, one of them after drinking cold water during halftime of a game.
Doctors diagnosed him with atrial fibrillation, a common condition among athletes, which speeds up the heart to 400 beats per minute.
Hakeem Olajuwon is a member of one of the wealthiest families in his country and speaks perfect English, French, and four Nigerian languages.
Among his qualities as a player are his incredible versatility and reflexes unbecoming of a person of his height (2.10 m).
Download Hakeem Olajuwon Coloring Pages Pdf