Here is a collection of Snowboard coloring pages to print and color.  Snowboarding as a winter sport at Christmas is very common to familiarize children with the snow and its activities. 
However, those who prefer other quieter activities can always turn to the drawings of these fun jumps. Happy Coloring.
Free Snowboarding Coloring Pages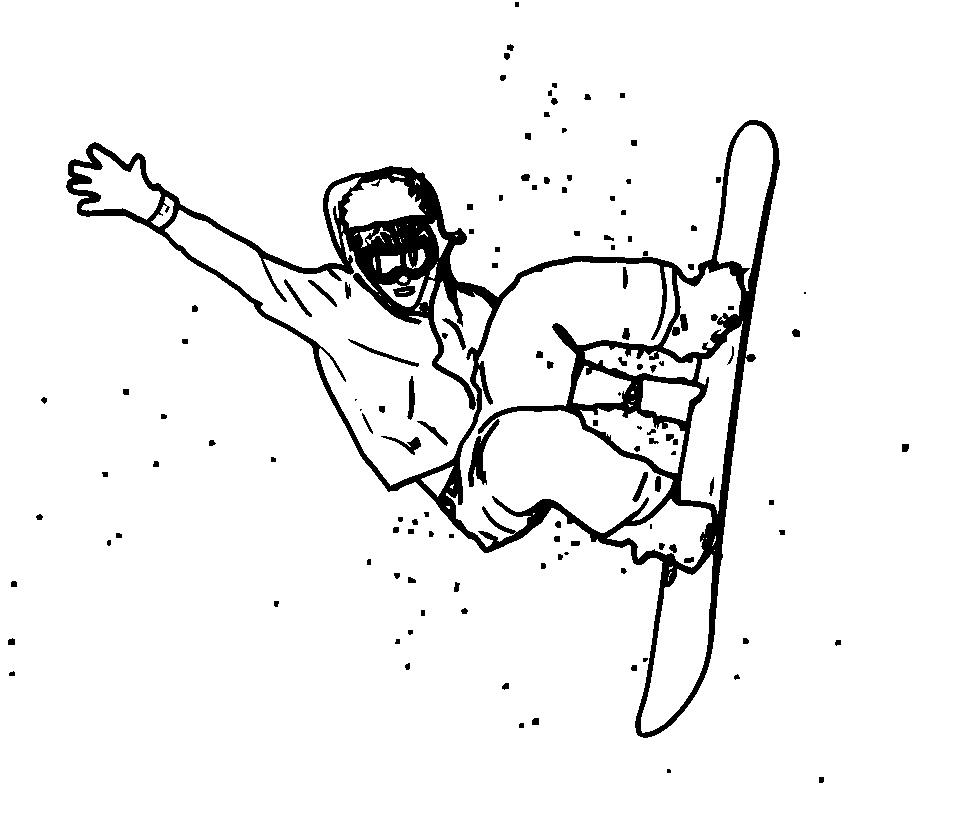 Snowboarding is like skiing but with only one board. The big difference is that you go with both feet together on the board, and the position is sideways.
Snowboarding was invented many years ago. Snowboarding began in 1965 when Sherman Poppen, an engineer from Muskegon, Michigan, created a toy for his daughters by putting two skis together and tying them to a rope to control the board.
Snowboarding can be defined as an extreme winter sport in which a board is used to slide down a snowy slope. You need a snowboard, snow boots, and snowboard bindings to practice it.
This sport was not incorporated into the Winter Olympics until 2015, a shame considering that since 1995 it was already starting to become fashionable.
Today there are many types of snowboarding and different types of snowboards for each style. These are the snowboarding modalities that exist today:
Freestyle: freestyle, as the name suggests, is freestyle. Usually, people practice it in snowparks, but you can freestyle by doing tricks while going down the slopes. The freestyle snowboards are soft and mainly inverted camber. snowboard freestyle
Freeride: Pure freeride is off-piste. We were going downhill on the mountain without any signaling or track. Nowadays, we also say that a snowboard is a freeride board if it is made to go down the slopes.
Half-pipe: A half-pipe is a half-pipe (as if we cut a pipe in half). The rider comes down with his snowboard and goes from side to side of the pipe, jumping and doing freestyle acrobatics.
Big Air: A big air is a massive jump, usually between 15 and 30 meters long. Big air is also Olympic, and it's all about doing the best trick in one hop. Today we have seen riders doing a triple somersault in big air.
Jibbing: Jibbing is doing freestyle or acrobatics on rails and boxes. You could say it's the tricks of grind. It was sliding on a crate or tube doing various pirouettes and tricks.
Quarterpipe: The snowboarder throws himself at full speed against a big and very steep ramp to get the most significant high jump.
Slalom: Riders (snowboarders) must speed down a slope while avoiding zigzagging gates (flags).
Boardercross: The actual snowboard race. Four competitors start simultaneously and have to try to finish first. In the circuit, you will find jumps and steep turns where you will have to demonstrate technique and reflexes to get to the finish without falling.
Mountain snowboarding: This modality is prevalent in skis, but it has also been practiced with snowboards using unique snowboards called split boards for more than ten years.
The split boards are like two skis joined together to form a snowboard when they reach the top.
Download Snowboarding Coloring Pages Pdf