Do you look for the best coloring pages to print? We have all of them. Here are Seattle Mariners coloring pages to print. Get the pictures and color them.
Seattle Mariners is a professional baseball team serving in the MLB. The team represented the AL West Division in Seattle, Washington.
Free Seattle Mariners Coloring Pages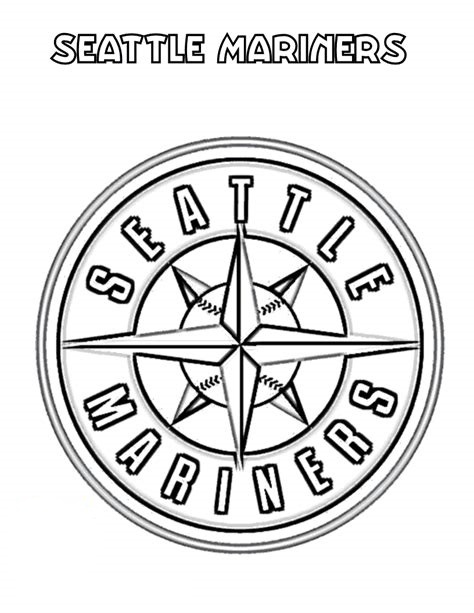 Seattle Mariners were founded in 1977. They are named for the importance of Seattle's marine culture.
After the Seattle Pilots moved to Milwaukee in 1970 and took the name "Brewers", seven years later, baseball would return to this city with the Mariners.
The Mariners began playing in the Kingdome, a stadium with almost 60,000 people to host a baseball game.
It had not been created primarily for this sport, but it was adapted to be the "M's" home for many years, precisely from 1977 until practically halfway through the 1999 season.
On July 15, 1999, the first game was played at Safeco Field, a venue with a capacity of more than 47,000 spectators.
The modern version, approved in 1993, harmoniously combines two directions: baseball and water. Following the name of the Seattle Mariners club, the developers proposed a nautical compass.
Taking it as a basis, they carefully combined this attribute with a small ball, symbolically placed in the middle.
The result is a stylized element that vaguely resembles a classic rondel: a circle within a circle with a wide stripe and one or more strokes.
The arrows diverge from the center in this case, indicating the geographical cardinal points.
The rays are of two colors (light and dark), so they look three-dimensional. Above the ball is the inscription "Seattle", below – "Mariners". Below are three border stripes.
Download Seattle Mariners Coloring Pages Pdf