The following Paris coloring pages have a collection of beautiful and high-quality images. It was showing the sights of the city, its views, streets, houses, symbols.
The Eiffel Tower is in the center of Paris, its most recognizable architectural landmark. And also, Paris is the world capital of fashion and fragrances.
Free Paris Coloring Pages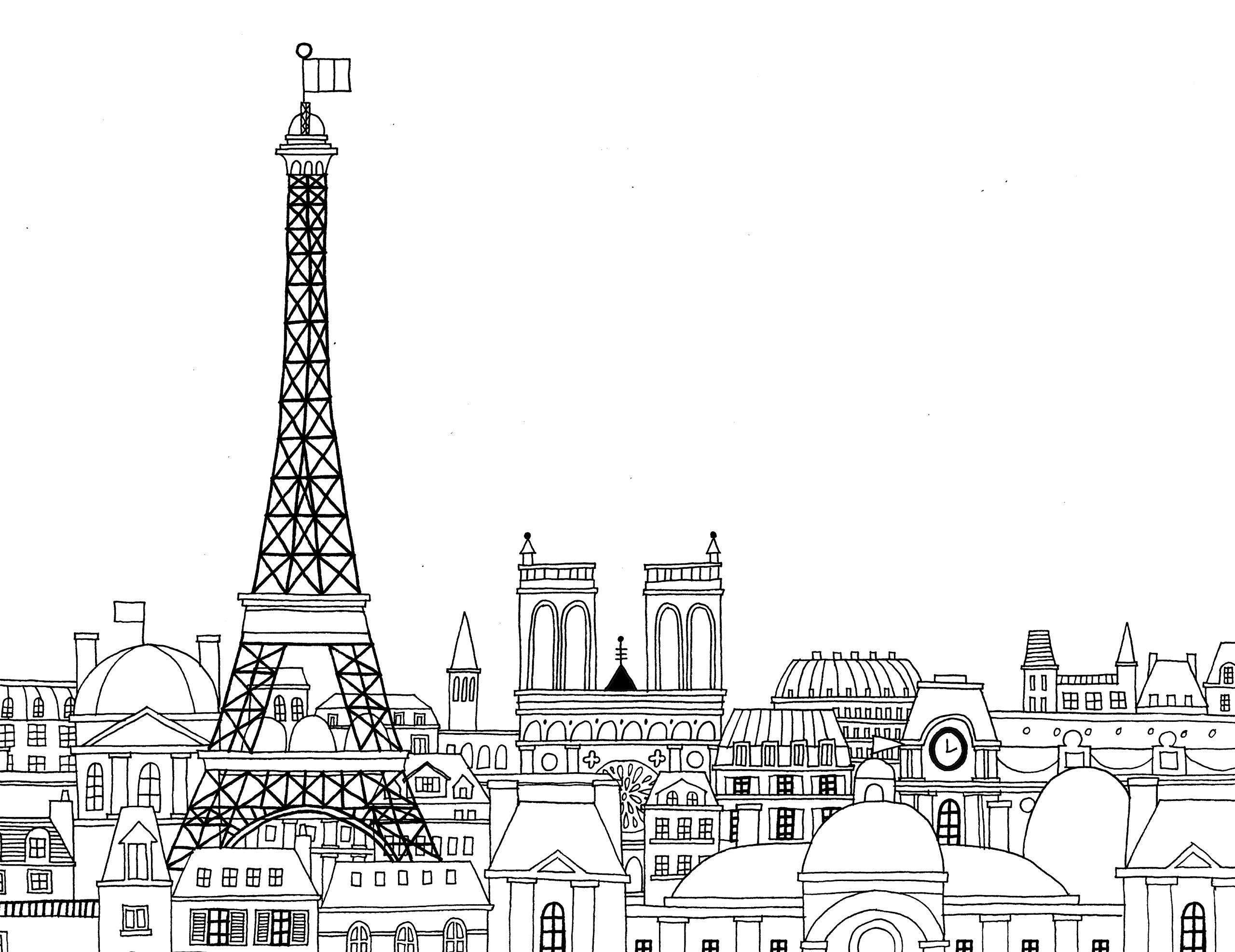 Paris is located in the north center of France. It is one of the most visited cities globally, besides being the cradle of some avant-garde movements.
Paris is attracted by many fantastic monuments such as the Arc de Triomphe, the Eiffel Tower, and the works of art in the Louvre Museum.
Paris is also known as the City of Light since the French capital was the first to provide its streets with electric lights. Also, it is called the City of Love due to the charm and romanticism of walking through its streets.
It is said that Paris was founded after the settlement of the Celtic tribe of the Parisii on the Ile de la Cité, a small island in the middle of the Seine River.
This tribe chose this islet for its strategic and defensive advantages. Today it is the heart of the French capital.
After the Roman invasion in 52 BC, the city was renamed Lutetia. When it fell under the dominion of Rome, it was rebuilt on the left bank of the Seine River, with the construction of walls, palaces, and baths.
During the decline of the Roman Empire, the barbarian tribes were occupying territories. Finally, the Romans were expelled from Lutetia by King Clovis I, who gave the city the name of Paris and proclaimed it the capital of France in 508.
During the 100 Years' War, which originated in 1337, the city was under English rule for at least 16 years. During this period, the Bastille was built, where the Place de la Bastille is located today.
Paris was opened to the Renaissance from the sixteenth century, and the kings were receptive to art and science, so many facades and buildings were redecorated.
In the second half of this century, there were also confrontations motivated by religious causes, and between 1562 and 1569, the Wars of Religion in France took place.
At the beginning of the 20th century, the construction of the subway began. Paris escaped the First World War by repelling the attack of the German army in the Battle of the Marne.
On the other hand, in the Second World War, it was occupied by the German forces for four years (between 1940 and 1945). But the structures of the buildings were not damaged of consideration.
Today Paris is one of the most important cities in the world for its cultural and patrimonial wealth.
Download Paris Coloring Pages Pdf