Here are a lot of beautiful coloring pages of Palace Pets. Enter the enchanting world of Disney Princess Palace Pets and meet Pumpkin, Teacup, Blondie, Treasure, Berry, Beauty, Lily, Summer, Sultan, and Petit, among others.
These adorable little animals are different, but they all enjoy being pampered by their own Disney princess. Would you please choose the picture you love then color them as you like?
Printable Palace Pets Coloring Pages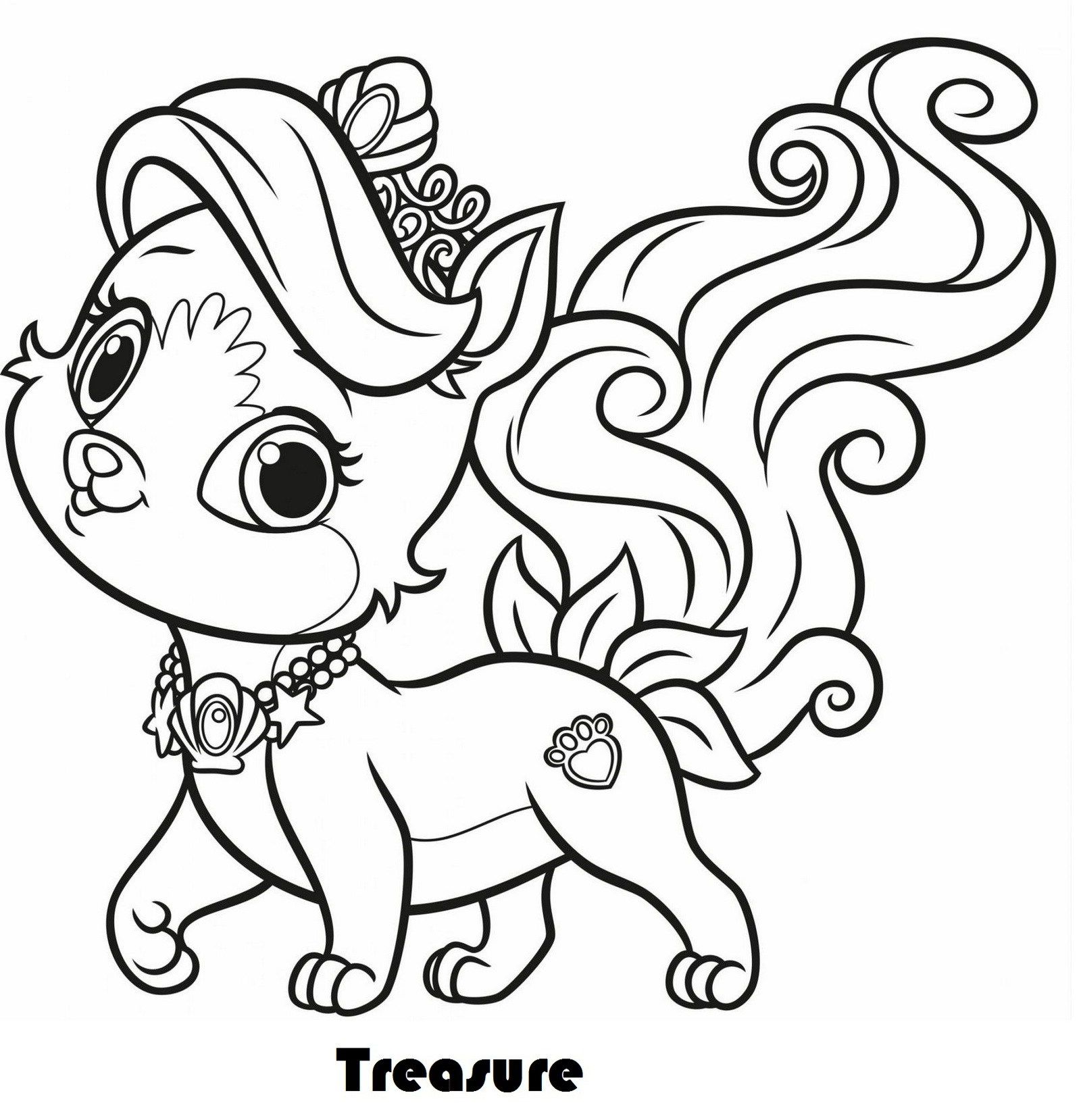 Enter the wonderful world of royal pets, each as precious and elegant as the princess they belong to. This case contains four fun reading books, coloring books, activities, and stickers.
Here are some characters of Palace Pets:
Pumpkin is a white poodle. She belongs to Sleeping Beauty. Pumpkin has big blue eyes. She loves to go to the ball to dance.
Blondie is Rapunzel's yellow blonde pony. She is brave and guards Rapunzel with her life. She is also charming.
The eyes of the kitten Treasure look a bit like those of her boyfriend, Ariel. Treasure is sweet, curious, and playful.
Berry is Snow White's little bunny. She wears a tiara in the shape of a bow. Berry is shy and loves good food very much.
Beauty is a pink kitten. She belongs to Aurora. Her eyes are purple. On a warm spring day, Beauty was sleeping in the garden when Aurora found her.
Sultan is Jasmine's, orange tiger. Sultan wore a turquoise headband and feather. He is small but fearless.
Petit is Princess Belle's adventurous and quirky pony. Only Belle is allowed to ride her.
Summer and Rapunzel-like to walk together in the meadows. Summer has long blonde hair and green eyes, just like Rapunzel.
Seashell belongs to Ariel. She has a red mane and a tiara made of a seashell. She can swim well and, like Ariel, she is a little clumsy.
Sweetie is Snow White's gray-blue pony. She wears a gold chain and a red tiara.
Blossom is Mulan's dark blue panda. She is cheerful and sweet.
Daisy is the Malteser puppy of Rapunzel. Rapunzel got Daisy at her wedding. Daisy has flowers in her fur.
Lily is a kitten. She belongs to Tiana (of the Princess and the Frog). Lily likes to dress up in pretty clothes to listen to music.
Meadow is Rapunzel's little skunk. She has beautiful green eyes.
Bayou is Princess Tiana's yellow pony.
Slipper is a gray-blue Persian cat of Sleeping Beauty. Slipper's talent is finding pretty things that Sleeping Beauty makes jewelry out of.
Matey is Ariel's lilac border collie puppy. He was saved by her when he tried to jump aboard Ariel's boat.
Download Palace Pets Coloring Pages Pdf