Flora, Bloom, and all the students at Alféa School are known as "Winx". The Winx study improves their magical powers because the Winx have gorgeous and colorful dresses and outfits.
So many reasons why Winx coloring pages are among the most popular. So let us color the following beautiful Winx Club Coloring Pages here.
Printable Winx Club Coloring Pages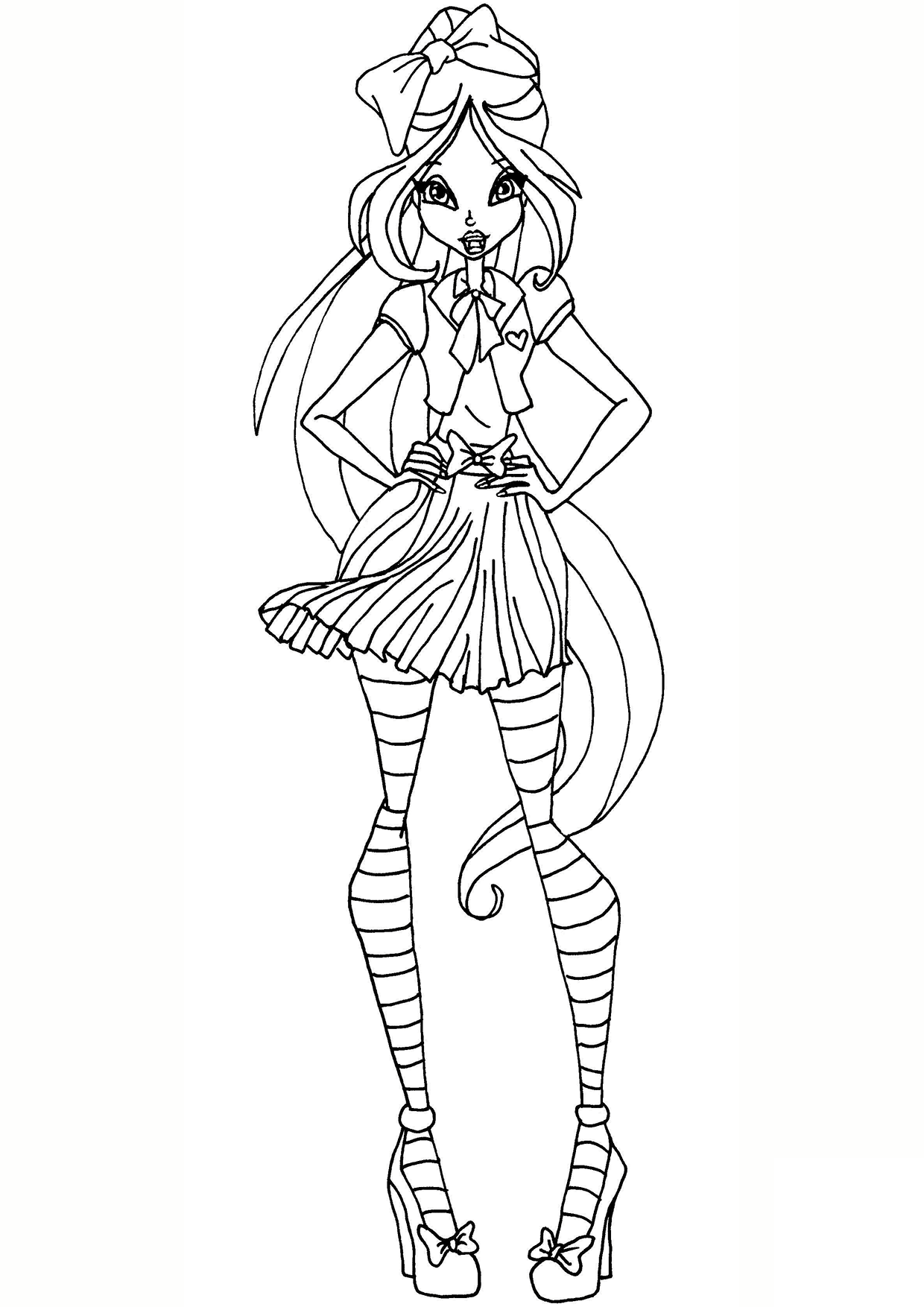 Winx club is a cartoon produced by the Italian animation studio Rainbow, in collaboration with Ratification. Drawing inspiration from Harry Potter, Winx club is a happy combination of friendship, magic, and adventure.
The story revolves around a group of 6 fairies, Bloom, Musa, Flora, Estrella, Tecna, and Aisha, engaged in the fight against evil, which three witches incarnate: Ici (from the heart of ice), Stormy (who controls the storm) and Darcy (who has power over darkness).
The protagonist is Bloom, a 16-year-old girl living on earth, ignorant of her magical powers, transported to another dimension: Magix, where her adventures and those of her four friends will begin.
Strength in the battles that our young friends will face will be their strong bond and friendship with Prince Brendon, the introverted Timmy, the mysterious, and the swordsman Prince Sky.
Bloom and the group of the Winx Clubs are friends of the fairies Alfea so that each of them can fully develop the talent that characterizes them.
Flora, the flower fairy, is a lover of botany and nature and devotes much of her time to creating potions with herbs; the group is the most thoughtful but sometimes fearful.
Musa, the fairy of music, is endowed with a sweet and sensitive personality, a little absorbed and a little lunatic.
Estrella, the fairy of the moon and the sun, is remarkable. We will often find her engaged in creating love potions that will have other functions.
Tecna, a fairy of technology, is very self-confident, sometimes too much so. Finally, Bloom, whose personality is solar and very generous, but is also a little impatient, perhaps because she will have to discover her powers from time to time.
The passion that characterizes her most is that for fashion. At the same time, the three antagonists frequent the colleague for witches of Tierranube.
Subject to underline that our friends are not the traditional charm, but the alliances and own teenagers to the fashion, and what fashion! Miniskirts and very short tops, pants to "elephant foot" and shoes with so much wedge.
It is also true that on the battlefield, they are transformed into a beautiful and sparkling parade. It is worth keeping it in particular for the low designs and the fantastic animations (often in 3d graphics)!
Download Winx Club Coloring Pages Pdf