If you have prepared your desired colors, let's put them on the coloring pages below. The following printable Indiana Pacers coloring pages are available for free.
Indiana Pacers is a professional basketball team of the NBA. It resides in Indianapolis, Indiana. This team plays its home games at the Conseco Fieldhouse, founded in 1967.
Free Indiana Pacers Coloring Pages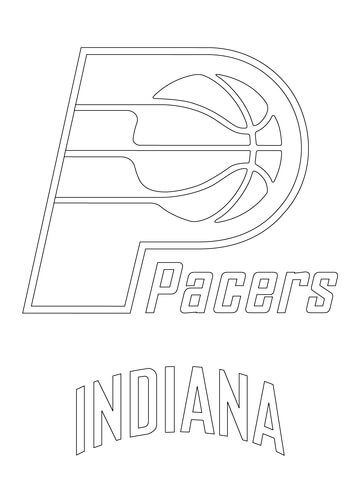 Indiana Pacers belong to the Central Division of the Eastern Conference. Their best result was reaching the NBA Finals in 2000, where they lost to the Los Angeles Lakers, 4-2.
In 1967, a group of Indiana investors, including one of the founders of the ABA, Richard Tinkham, and sports agent Chuck Barnes, launched a professional basketball team. The name of the future team was chosen very carefully after discussing several possible variations.
Indiana residents are passionate about driving fast. The love of high-speed motion runs through the state's history. For many years, horses were the best vehicle for people.
Therefore, different types of horse racing were prevalent around the world. Over time, the famous animal was replaced by a full-fledged iron horse, creating a new era of auto racing.
The Indy 500 race was one of the most prestigious global competitions. The factors mentioned above determined the name of the future club – Indiana Pacers.
Chuck Barnes was a racing enthusiast and an agent of famous people involved in motorsports. The man played an essential role in the final decision about the team's name.
It is worth mentioning that the geographical affiliation of the team caused the founder to hesitate: would they become a city team (Indianapolis Packers) or a state team (Indiana Pacers)?
The idea of holding exhibition games in different cities around the state was claimed during the season to popularize basketball. It determined the final name of the club.
Download Indiana Pacers Coloring Pages Pdf