Today, you can have fun with our Ever After High coloring pages. These images are very cool and fantastic. So, we make sure you will be pleased.
The story of the Ever After High begins with their new place of study thus begins our narration of the events at the institute.
Free Ever After High Coloring Pages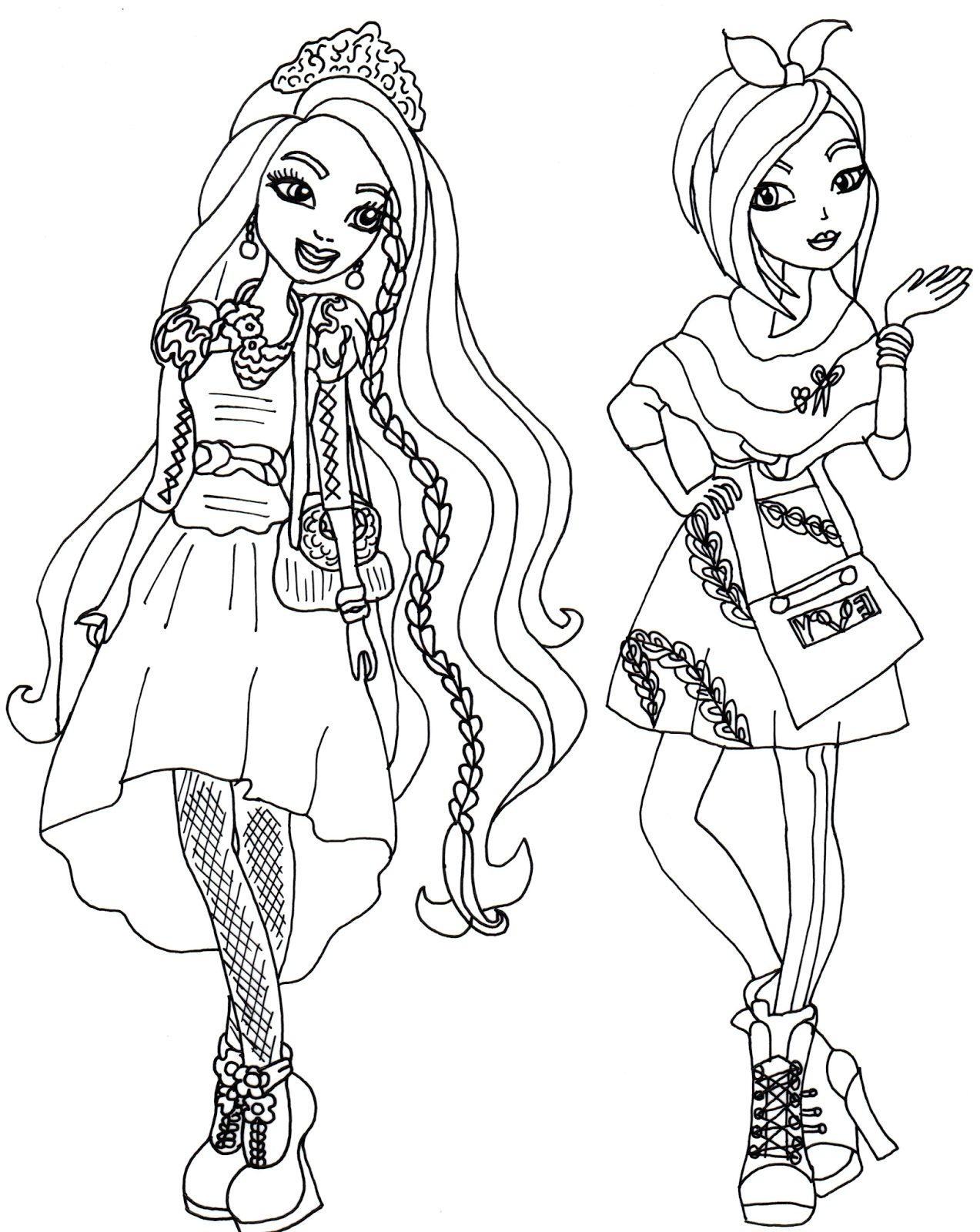 Once the fantastic summer vacations are over and the summer season is well underway, classes begin for these high school students.
The headmaster, called Grimm (like the stories of the brothers that bear his name), announces to all the children that a new student will study at the school.
One of the leaders, Apple White, wants to throw a party to welcome the new school acquisition. They are the offspring of the main characters of the fairy tales.
They are unaware that the new addition to the list of schoolchildren is Raven Quenn, the daughter of the Evil Queen of the fairy tales.
At the same time, this student is logically very uneasy because she does not know anything about where she will attend her new school.
Doubting what they will think of her when they meet her and learn about her evil mother, maybe things will go wrong, and she will not be as well-received as she expects.
Just as she appears on the scene, she sees a significant welcome sign on the porch of the high school. Welcome to the historic Ever After High School
With the sign written: "welcome to Ever After High," we will have to see its face when the creature reads it and the adventure that follows.
She, as usual, introduces herself to the rest of the classmates and explains that she is the first-born descendant of the evil queen.
Just the bitter enemy of her mother, and she falls to the ground from the suffocation and the consequent displeasure.
Once she recovers from the shock, Apple takes Raven to get her books, to see what classes she has been assigned. The class schedule and all the other necessary information she needs to attend her daily studies.
When she discovers that she has been assigned to share the same room because they were borders.
Together with her roommate Apple White, she can't believe it, it looks like it was done on purpose, someone is trying something terrible, and she has to find out right now!
It is a challenging experience and great trance that the two archenemies must share.
Not only will they have to see each other's faces every day, but they will also have to share a bedroom at night. What at first seems to be an impossible task, time heals everything.
And, after a short time, we are astonished to see that the two get along great and are inseparable friends as if they had been friends all their lives.
They go everywhere together, and they share moments in the school cafeteria until Dexter shows up.
Download Ever After High Coloring Pages Pdf