Darth Vader, the Jedi knights' archenemy, is back on this free printable coloring page. With his red lightsaber, he wants to fight them in a new Star Wars adventure.
Paint Darth Vader with fun colors to play a prank on him and help the Jedi. Choose dark colors if you want to turn to the dark side of the Force.
Printable Darth Vader Coloring Pages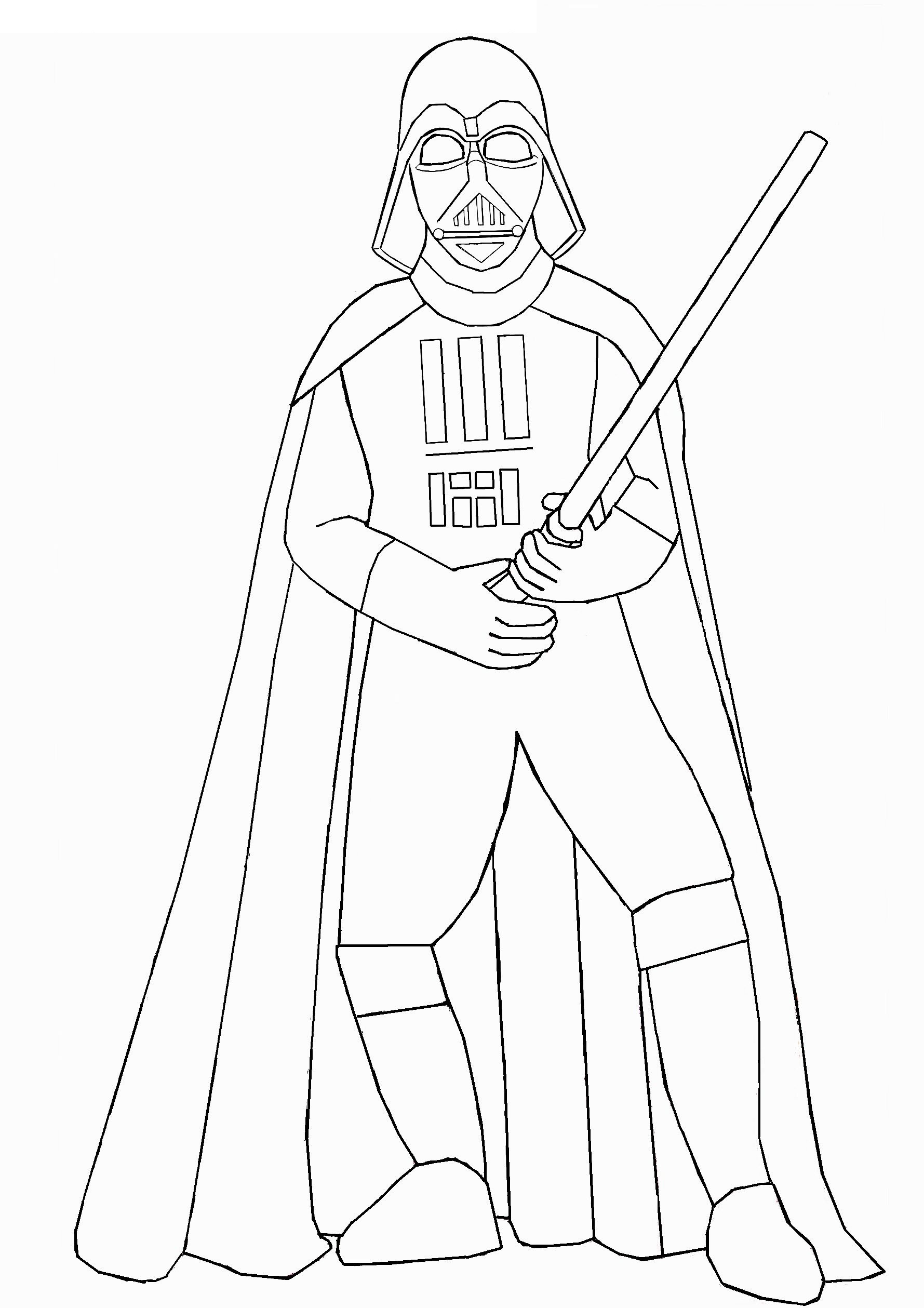 Darth Vader is the Dark Lord of the Sith. Emperor Palpatine's right-hand man. Merciless exterminator of the last members of the Jedi Order.
He is a half-machine creature clad in black armor that has become a symbol of fear and death. Few know it, but Darth Vader was not always a servant of evil.
Before he pledged his allegiance to Darth Sidious, he was Anakin Skywalker, a brave Jedi Knight of the Old Republic and lover of Padmé Amidala.
The young Knight was plagued by increasingly frequent and terrible visions of witnessing the death of his beloved Padmé Amidala, to whom he had secretly married.
At the time, Anakin believed he had a true friend and confidant in Chancellor Palpatine, who treated him as his son.
Some say it could have been Darth Sidious, manipulating the Force through the midichlorians, who gave birth to Anakin. In any case, the young man thought he could confide in Palpatine freely and confidently in those troubled times.
But little did he know that the Chancellor was none other than the Dark Lord of the Sith, Darth Sidious, who coveted supreme power and had hatched a nefarious plan to destroy the Jedi Order.
Palpatine exploited Anakin's visions to reveal his true identity and make him believe that only the Dark Side could save Padmé from a certain death that even the most powerful Jedi could not avoid.
Shaken by this news, Anakin informed Mace Windu that the Chancellor was the Sith Lord they had searched for since the conflict's beginning.
Accompanied by three of his companions, Mace Windu attempted to stop Palpatine and succeeded in neutralizing him after a relentless battle.
Then Sidious decided to take out his masterful trump card, convincing Anakin that only his teachings could save Padmé Amidala and that he must rescue him from Master Windu's grasp.
As Master Windu prepared to swing his lightsaber at the Dark Lord of the Sith, Anakin made the most serious decision of his life. He committed an irreversible act that would unknowingly plunge the galaxy into decades of unrest.
He slashed Mace Windu's hand with his weapon, and in the next second, Mace Windu was killed by a "miraculously" revived Darth Sidious. Then Anakin decided to pledge allegiance to the Sith Order. His new master named him Darth Vader.
Download Darth Vader Coloring Pages Pdf