Cricket is a bat and ball sport in which two teams of eleven players each play against each other. It is played on a grass field, more or less oval, whose extension should not be less than a soccer field.
Now, you can find some fun in the following cricket coloring pages. And, you can play it everywhere. Please use your creativity to make them colorful. Happy coloring.
Free Cricket Coloring Pages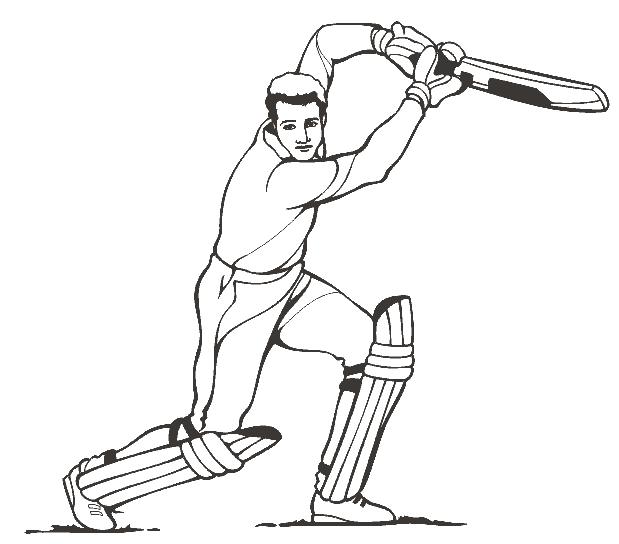 Cricket is one of the oldest sports in history. Moreover, it can also be considered as one of the most ethereal. Thanks to the foundations of this sport, many other games such as baseball or tennis were born.
Although some records date back to 1300, ensuring a sport similar to cricket, there is only absolute clarity that this game was established around the sixteenth century in England.
As is only natural, schools fueled its accelerated growth. It was so popular that it was already number one nationally two centuries later.
By 1874, the Star and Garter Club suggested the first cricket rules, and three years later, its members decided to take the definitive step by creating the Marylebone Cricket Club at Lord's.
Why is it so important? Well, because it is one of the oldest clubs at a sporting level. And not only that, since then, they have been in charge of making the revisions that have to do with the rules.
It is so prestigious that it only has 18k members. Do you want to join the club, easy, you must be invited by at least two official participants that you have known for at least five years. Oh, and that only assures you to enter a list of candidates checked in detail.
The English took cricket to countries like India (where it is extremely popular), New Zealand, Australia, and South Africa. In these places, this discipline far surpasses soccer, basketball, or tennis, for example.
Believe it or not, it is a game with particular rules. It is played in summer, especially between 1 and 6 pm, and with lunch and tea breaks (yes, you know how the British are).
It will be confusing for a person watching a game for the first time to understand its dynamics and concept. But don't worry, it consists of racing (just like baseball).
The game requires two teams of 11 players. A pitcher throws the ball, and the opposing team's batter must hit it as far as possible so that he has time to run and make a run.
However, if the batsman does a lousy job and a player from the opposing team catches the ball, he is out. He is also out if the bowler knocks down the wicket.
The whaat is a wooden structure made up of three sticks. He is also out if the batsman uses legs or feet to prevent the wickets from being knocked over.
The clothing is very similar to field hockey for some players, with protective masks and a cover from the knees to the feet.
Others wear long or short-sleeved shirts and long pants. Both teams wear white when the ball is red. If the ball is white, other colors are usually used.
The playing field is usually oval and measures 10 meters long and about 3 meters wide. It is played outdoors, and the area is grass. The ball is very similar to the one used in tennis and usually reaches up to 140 km/h.
Like any sport, there are many rules, and it would take more than one entry to tell you everything. But with that, you will have more than enough to have that conversation with your know-it-all friend or to watch a match.
Download Cricket Coloring Pages Pdf