Do you look for BMX coloring pages? Now you can find these fantastic bicycles on the following coloring pictures below. You can print then color them as you like. Happy coloring.
BMX is an extreme sport, an acrobatic cycling modality whose origin is in California in the 1970s. Acronym for Bicycle Moto Cross; it has been an Olympic sport since the 2008 Beijing Olympics.
Free BMX Coloring Pages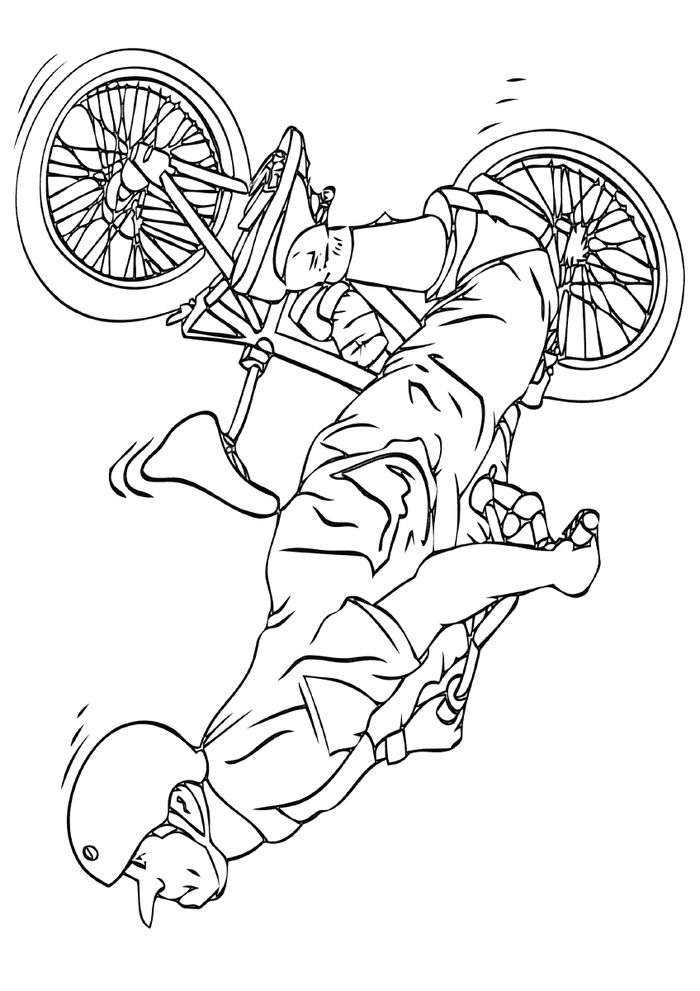 The flatland primarily consists of making evolutions with the BMX on the flat and smooth ground using the four pegs fixed to the wheel hubs.
It is a balanced discipline: without ramps, obstacles, and without touching the ground with the feet, the athlete performs unimaginable figures.
The idea of the street is to exploit the biker's creativity through obstacles and anything else found on urban routes.
The vert is the most extreme and probably the most spectacular BMX specialty.
It consists of jumping from a ramp about four meters high, where riders try to make the most spectacular jump possible, comfortably reaching a height of 7 meters.
Given the risk of very high falls, the vert involves the use of protections, and it is for the same reason that it is not a very popular discipline.
The BMX da vert has U-brake-type brakes that allow less wheel locking. The covers have relatively high pressure (6.5 atmospheres), the handlebar is equipped with rotor-org and the wheels of platforms.
The park is the set of structures on which you can jump and make evolutions of all kinds. The discipline is very spectacular so that competitions are organized at the world level.
In the urban bike park, more commonly called skate park, there are ramps, rails, grind boxes, and sometimes even a half-pipe, a structure shaped like a half-pipe on which you swing from one side to the other until you get out of the edges, to jump and show off your skills.
This discipline is practiced with the BMX equipped with platforms and rotor-org; there is also fall protection.
There are bumps, jumps, ramps of wood, or sand in the dirt bike park. You mainly use the mountain bike that can be front or fully suspended, and even here, the rider uses the protections.
This specialty of mountain biking and BMX consists of cycling on a route made entirely of earth or snow.
Bumps, parabolics, hollows, jumps between a mound of earth and the other (even long): the latter called dirt-jumping, short for dirt-jumping, is generally practiced with the BMX, while for the more technical route is preferred mountain biking.
Download BMX Coloring Pages Pdf