It's that time of year again, when we all start to feel the warmth of Valentine's Day in the air. Whether you're single or taken, there's something special about this day of love. This year, why not get creative and give your loved ones something truly unique? How about some Unicorn Valentine coloring pages?
These magical pages will bring out the inner child in even the toughest of hearts. With their vibrant colors and intricate designs, these pages are sure to make a statement.
So why not take this opportunity to express your love for someone special? With these Unicorn Valentine coloring pages, you can give your heart away without saying a word!
Let the magic of these enchanted creatures do the talking for you – and make this Valentine's Day one to remember!
Unicorn Coloring Pages Gallery & PDF
These coloring pages can provide hours of entertainment for young ones, while at the same time teaching them about this special day. It's a great way to get everyone involved in the festivities and create a unique memento to cherish forever. Plus, they provide an opportunity to share your love through art and creativity.
Unicorn valentine coloring pages are the perfect way to spread some love and kindness this season. They're a great way to celebrate the holiday with your family and friends, as well as get creative with a timeless activity that can be enjoyed by all ages.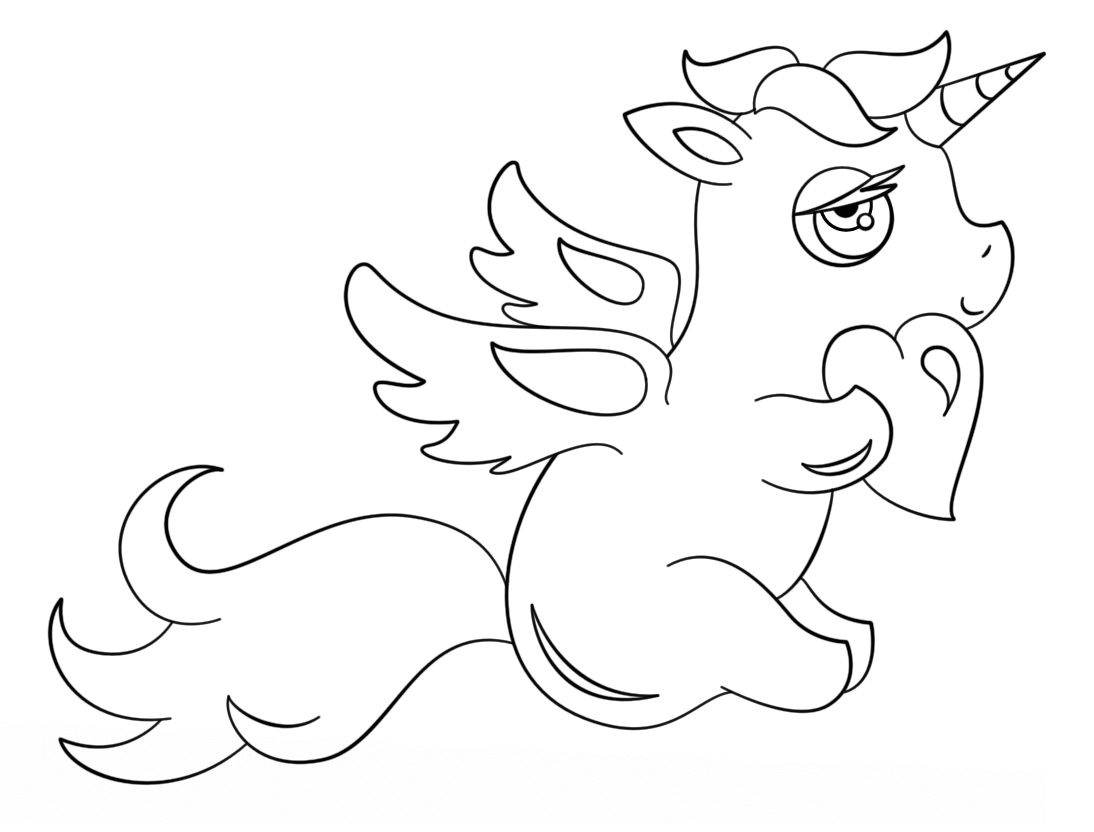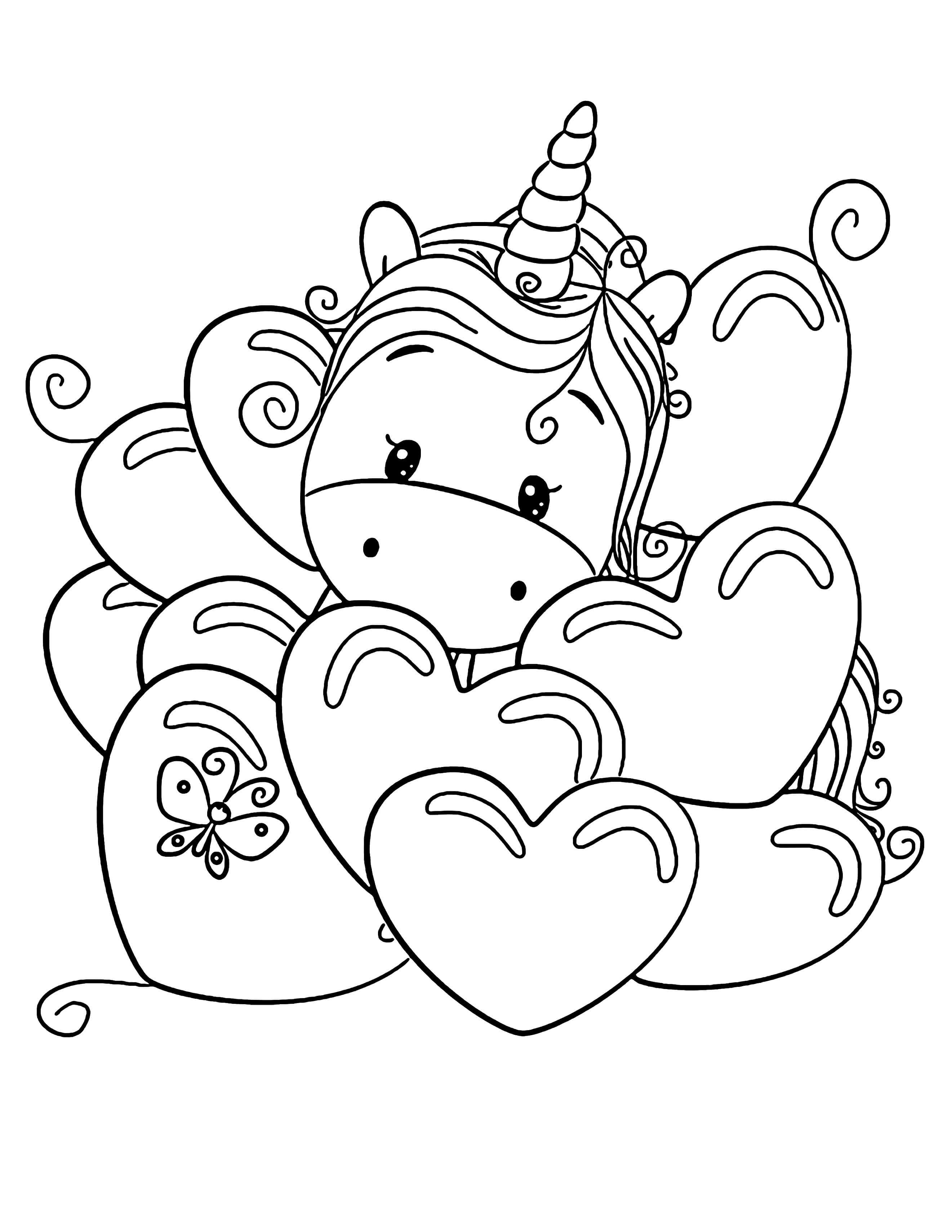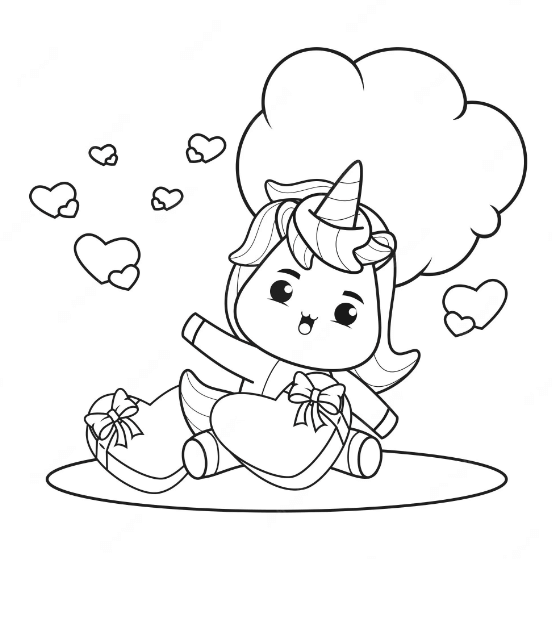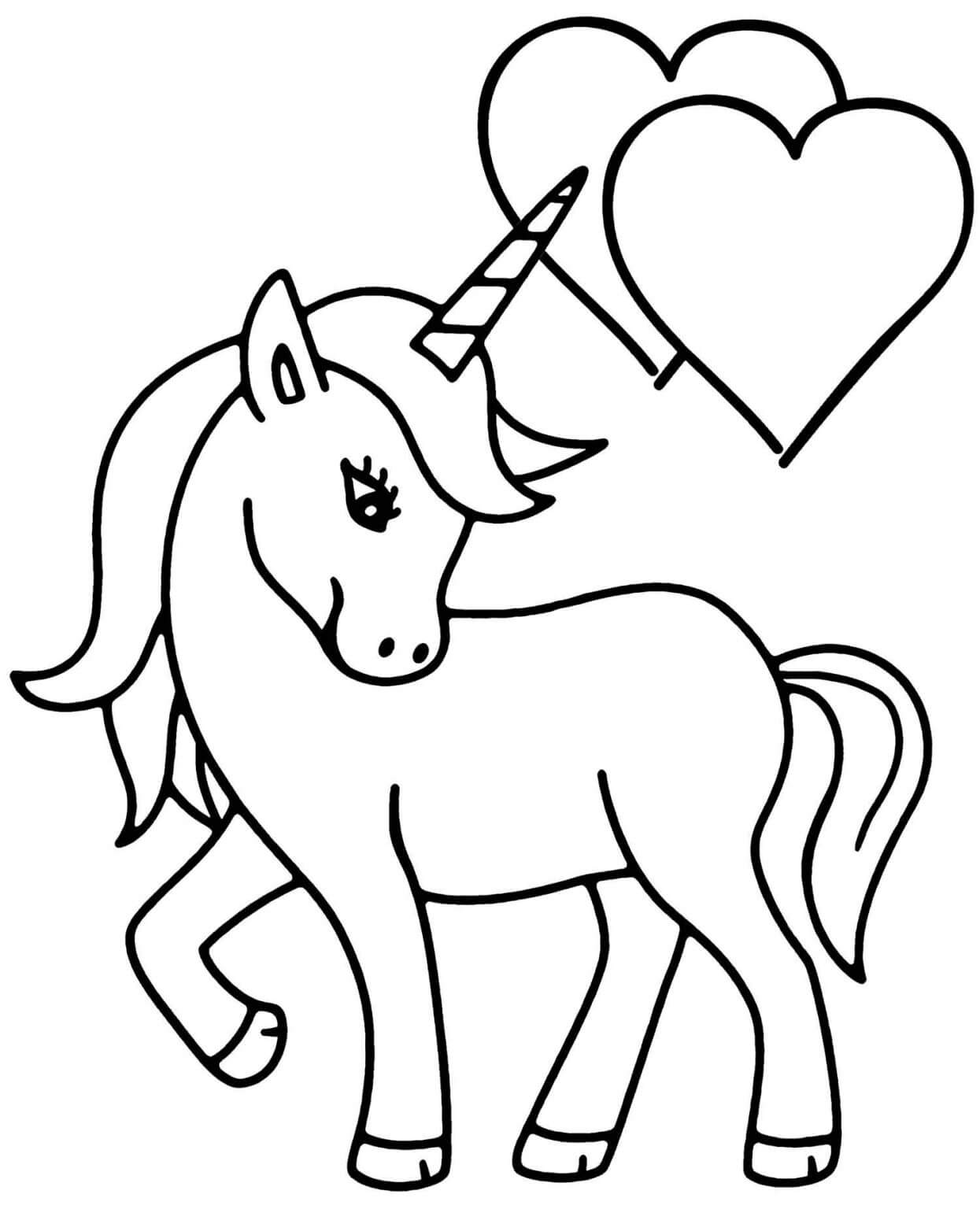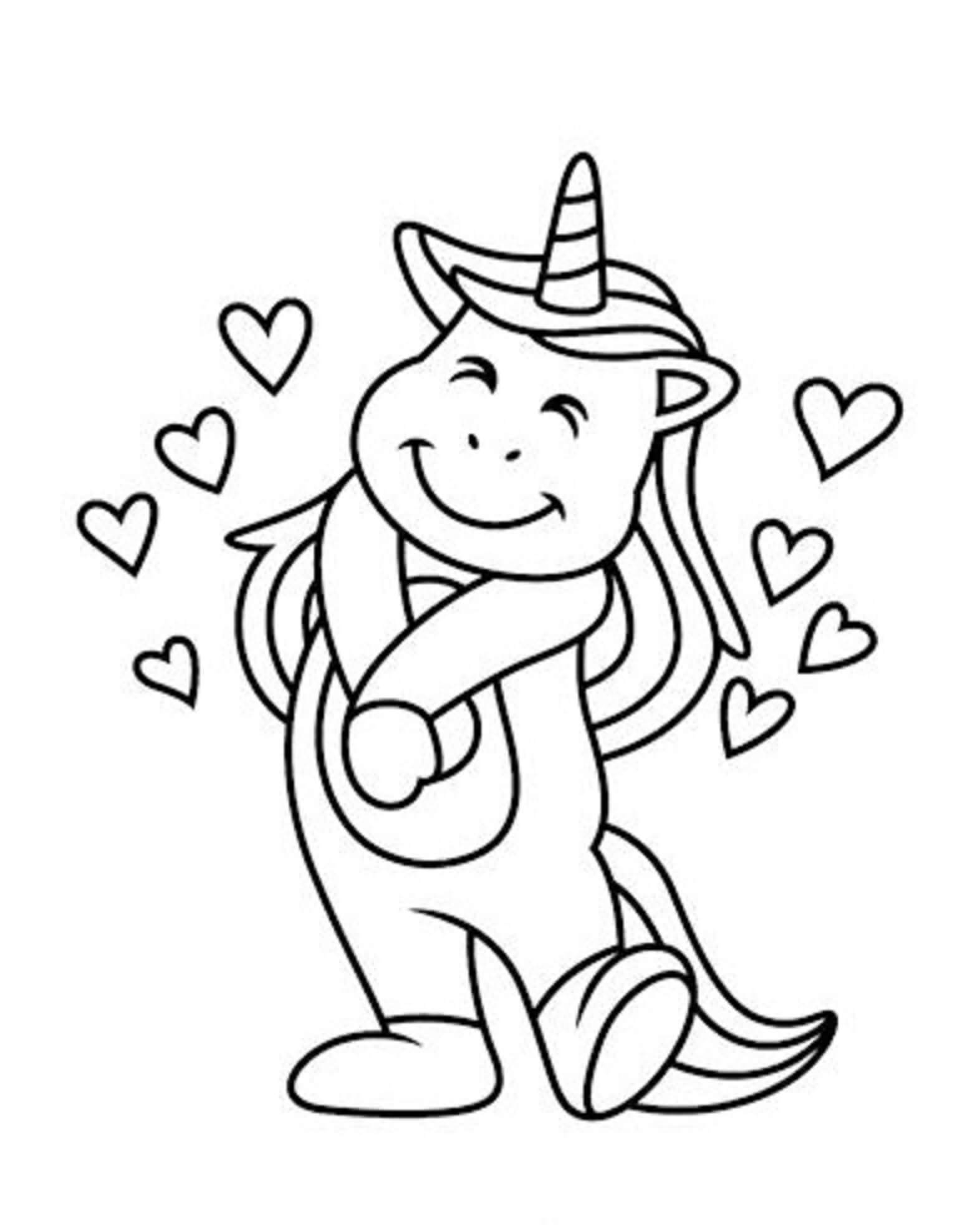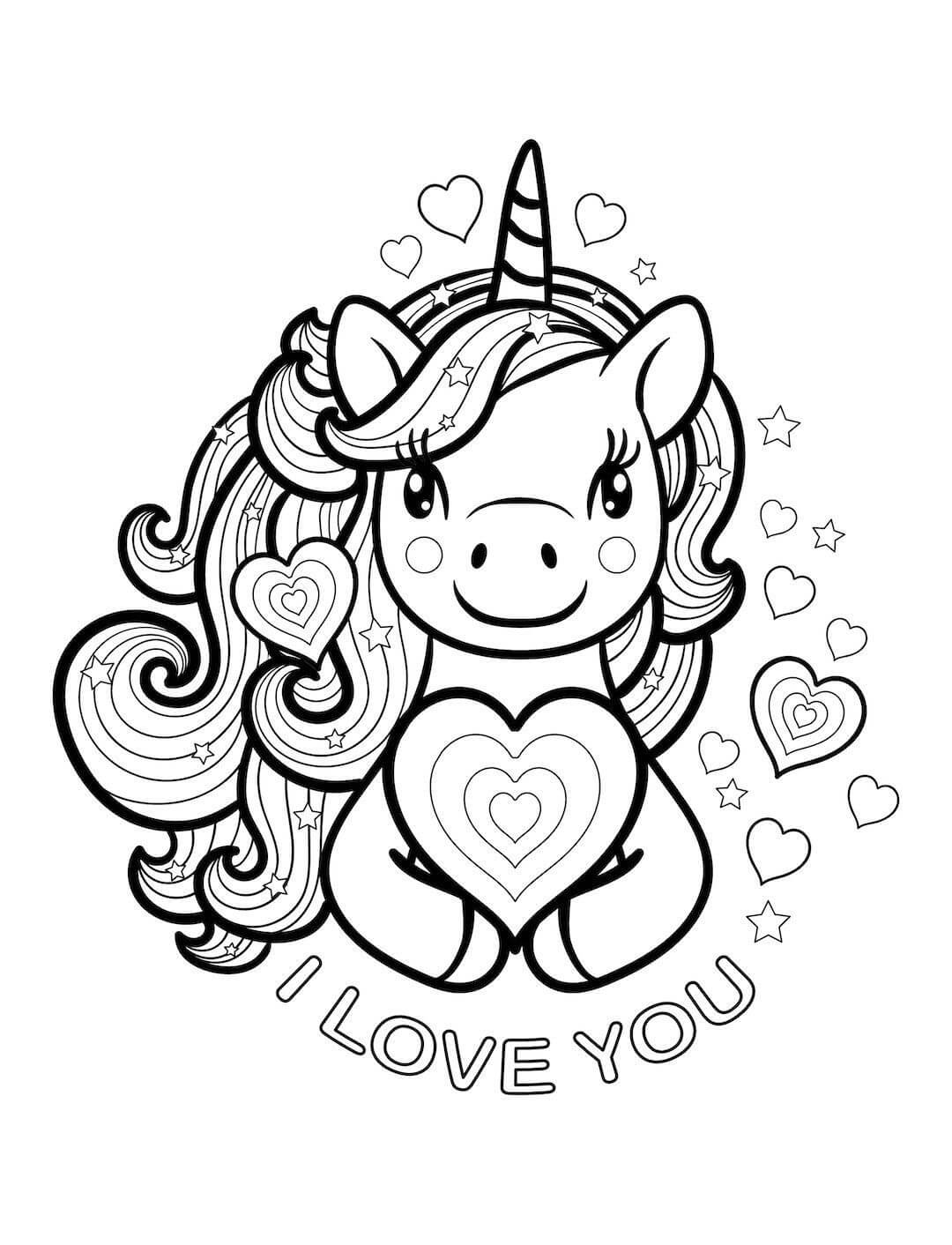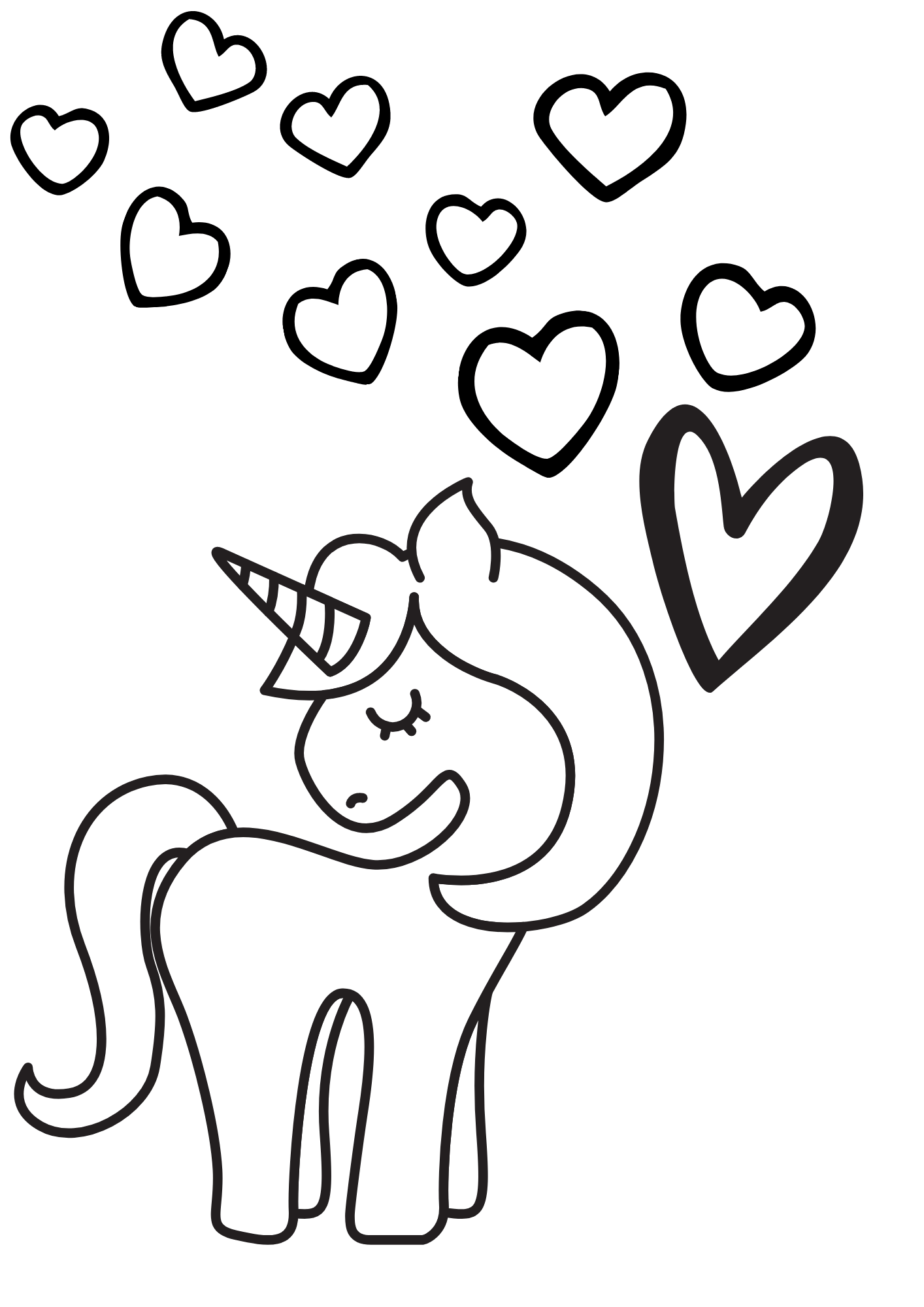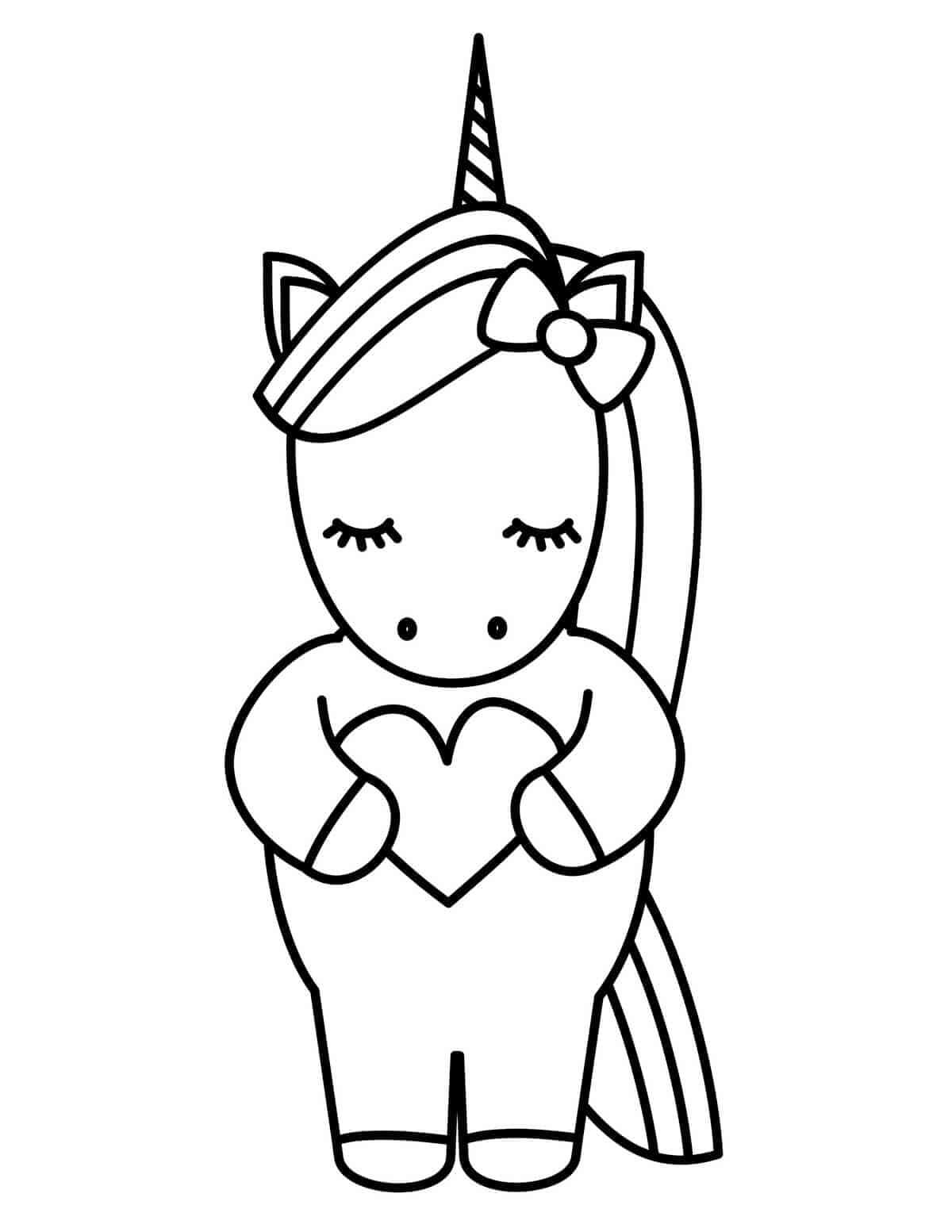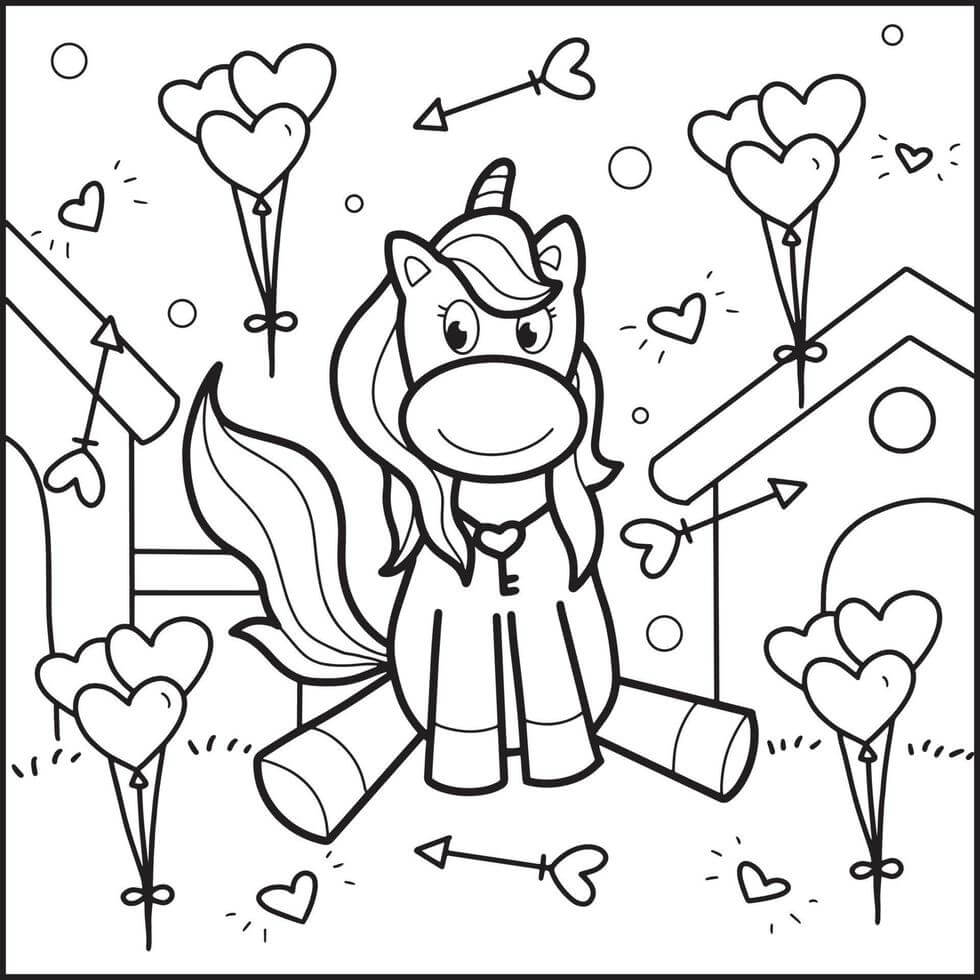 You can download the PDF file below.
Benefits Of Unicorn Valentine Coloring For Children
Coloring pages featuring unicorns on Valentine's Day can be a wonderful way to engage children in an activity that encourages creativity, imagination and focus. Not only are these printable coloring pages a great way to spend time with your kids, but they also have numerous benefits for their development.
For starters, these activities spark the imagination of young ones. As they color their unicorn valentines pages, children can create their own stories about each element of the picture. They can make up characters, scenarios and adventures to go along with the images they are creating -all while developing their creative problem-solving skills.
Printable coloring is also known to improve motor skills and concentration in kids. Working on intricate designs requires intense focus, so children not only stay engaged but also hone their ability to concentrate on tasks for longer periods of time. Additionally, as they color within the lines, little ones strengthen their hand muscles and improve dexterity when it comes to writing and drawing.
Valentine's Day coloring pages with unicorns can be a fun bonding experience for parents and children alike -and offer lots of developmental benefits along the way!
Types Of Coloring Pages
We're now going to take a look at the different types of coloring pages available for Valentine's Day, featuring our beloved unicorns. As we all know, children love unicorns and so this makes it all the more fun for them to color their favorite mythical creature.
From printable unicorn sheets to free printable unicorn colouring pages, there is no shortage of options for kids to choose from. This can be great for helping young ones find their creative spark and express themselves in unique ways. Coloring also encourages fine motor skills and helps with problem-solving as they interpret the image on the page.
It's always a good idea to ask your child what type of coloring page they would like before you print it out. That way they'll have an opportunity to get excited and feel involved in the activity – plus, you can bond over something special together. All in all, valentine's day unicorn coloring is sure to create treasured memories that will last a lifetime!
Ideas For Using Unicorn Valentine Coloring Pages
We all know how fun it can be to color, so why not make use of unicorn valentine coloring pages to add a bit of sparkle to the day? The possibilities are practically endless when it comes to using these printable valentines – you can get creative and give kids the chance to express themselves in new and exciting ways. Here are just a few ideas for how you can use them:
Create a special gift – print out several unicorn valentine coloring pages, let the kids go wild with their creativity, then bind them together into a handmade book. Kids will love being able to show off their work as a unique present!
Make an art gallery – set up a mini art gallery in your home by having your little ones hang up their finished works of art around the house. It's sure to be an eye-catching way to bring some extra color into any room!
Get crafty – use the coloring pages as templates for other crafts. Kids can trace around them onto fabric or paper, then embellish them with glitter or ribbons for an extra-special effect.
Host a party – make unicorn-themed invitations by downloading and printing out several copies of the printable valentines and letting guests decorate them however they like. They're sure to be talking about it long after the event is over!
Have fun indoors – spend some quality time together by getting out those crayons and markers and spending an afternoon coloring in those cute little unicorns – perfect for keeping kids entertained on a rainy day.
So why not try out something new this Valentine's Day? Unicorn valentine coloring pages are sure to be well-loved by both children and adults alike; not only do they provide entertainment but they also give people the opportunity to showcase their creativity. Give it a go – see what amazing creations you can come up with!
Quick And Easy Valentine Crafts With Coloring Pages
The best part about using these coloring pages for Valentine's Day crafts is how easy it is. You don't need any special materials or skills to start creating. All you need are the printouts, some scissors and glue and you're ready to go!
Silly card designs for your friends, decorations to hang up around the house or even little presents for the kids; all these things can be made quickly and easily with nothing more than a few of these lovely printables. Let your imagination run wild and let your creativity blossom as you craft together unique Valentine's Day gifts!
Creative Ways To Use Coloring Pages
Let's look at some fun ways that you can use colouring pages to make your Valentine's Day extra special.
One of the best ways to use colouring pages is as part of a craft project. You could cut out pieces from the page and assemble them into 3D models, like unicorns or hearts – perfect for any little Valentine's Day gifts! You could also print different versions of a design and layer them in different combinations. This will create unique backgrounds that you can then embellish with extra details like glitter and ribbons.
If you want something really special, why not try creating your own colouring page? It doesn't have to be complicated – it just needs to have some elements that capture the spirit of Valentine's day. A few simple shapes, swirls, and hearts will do the trick! If you get stuck for ideas, there are plenty of tutorials online that show you how to make your own colouring pages. The end result will be something truly unique and special; perfect for bringing a bit of joy into someone's life this February 14th!
Fun Activities To Do With Unicorn Valentine Coloring Pages
One great activity is to create a special 'coloring day'.
Gather up some free printable Unicorn Valentine coloring pages and supplies like markers, crayons and pencils. Then set aside an entire day (or as much time as you have) for coloring.
The bonus of this is that it allows kids to take their time with each page, really allowing them to explore their creative sides. It also allows them to work on things like fine motor skills and coordination.
And don't forget about the social aspect! If you have more than one child, they could work together on various coloring pages or compete in a timed competition to see who can finish first.
It's also possible for parents and kids to spend quality time together by creating art projects from their finished masterpieces. With just a few simple steps, these Unicorn Valentine coloring pages can become the start of something truly special!
Supplies Needed For Coloring Pages
Coloring pages are a great way to spread some joy and love this Valentine's Day! Whether you're looking for something fun to do with your kids or just want to get creative yourself, all you need is some supplies.
To start off, get the right coloring book. You don't have to go for something specifically themed around Valentine's Day – a regular colouring book will do just fine! But if you want something more specific, there are plenty of unicorn-themed options available. Make sure to pick one with thick pages so that your colors won't bleed through and ruin the design. Also don't forget to get plenty of markers or crayons – it'll be much more fun if everyone has their own set!
Don't forget about accessories either! A pencil sharpener can come in handy when you're trying to keep your colors nice and bright. And an eraser can help correct any mistakes you make while colouring. You can also find special glitter pens and stickers that are perfect for adding extra sparkle and shine to your designs.
TIP: To make sure everyone gets into the Valentine's Day spirit, why not have a competition? Get everyone to choose their favorite page from the coloring book and see who comes up with the most creative design! Have some happy valentines treats ready as prizes – they're sure to motivate everyone even more!
How To Display Finished Valentine Coloring Pages
Well, then – how do you display your finished unicorn valentine coloring pages?
You could go for a classic, such as framing each page and hanging it up on the wall. You could also create a scrapbook, keeping all your pictures together in one place.
Or why not try something a bit different? How about making them into cards to send to friends and family? It'd be an especially nice touch because they'd know you made the cards yourself.
Making the cards is really easy. All you need is some cardstock or heavy paper, scissors, glue, and any other decorations of your choice. Cut out the picture, glue it onto your cardstock or paper and then decorate with whatever you like! Ribbons, stickers, glitter – anything goes! Once you've finished your cards they'll be ready to send off in the post in no time at all.
You don't have to stop there either; if you're feeling creative why not take things a step further by turning them into magnets or bookmarks?
There are plenty of ways that you can show off your work and make sure that everyone knows how much effort and skill went into creating these beautiful unicorn valentine coloring pages!
Frequently Asked Questions
How Long Does It Take To Color A Unicorn Valentine Coloring Page?
The truth is, it depends on the individual and how much effort they're willing to put in. If you've got an artistic flair and a steady hand, then you could be done in no time! On the other hand, if you're not so confident or want to make sure your masterpiece comes out perfect, then it might take a little longer.
But here's the thing: coloring can be incredibly therapeutic. It helps reduce stress and anxiety, and can even provide some respite from life's troubles. So why not take your time? Don't rush yourself – let go of any pressure and just enjoy the experience. Who knows, you may even discover some hidden talents!
No matter how long it takes you to color this unicorn valentine page, the important thing is that you have fun doing it. Think of it as a form of self-care; a chance to relax and express yourself creatively. So grab some colored pencils, put on your favorite music, sit back, and get creative!
Are There Any Age Restrictions For Unicorn Valentine Coloring Pages?
The simple answer is no. Unicorn valentine coloring pages are for all ages! Whether you're a young child or an adult, anyone can pick up a coloring page of their favorite magical creature and get creative. That's the beauty of these pages – they let us express our innermost thoughts and feelings in a unique way.
But that doesn't mean you should just dive right in without thinking about what you're doing. It's important to be mindful of your own personal safety when using these types of materials. Make sure to read the instructions carefully, so that you don't put yourself in any danger. Keep in mind that there may be certain precautions or warnings associated with certain activities, depending on who created the coloring page and what kind of content it contains.
Ultimately, the decision is yours – but if you take the time to do your research and make informed decisions before getting started, then you'll be sure to have a safe and enjoyable experience with your unicorn valentine coloring pages!
Is It Possible To Turn Unicorn Valentine Coloring Pages Into A Greeting Card?
Well, why not take that beautiful image you've just colored in and scan it onto the computer? Then you can use a word processor or basic graphics program to add some words of your choice. You could even make a few edits to the picture itself – remove an errant line here, or enhance the color there.
Once you've got everything as you want it, you'll need to print off the image onto cardstock paper. If you don't have any at home, most office supply stores will have some – then just cut out the shape of your card. Don't worry if it doesn't look perfectly symmetrical; this is all part of its charm!
From here, all that's left is to attach some ribbon or string – whatever takes your fancy – and voila! You have yourself an exquisite customized valentine greeting card with a unique unicorn design.
No one else will have one like yours! It really is that simple; so go ahead and give it a go – I'm sure your recipient will love it!
How Can I Make Unicorn Valentine Coloring Pages Last Longer?
First of all, make sure the paper you use is thick and of archival quality; this ensures that your artwork won't easily tear or fade over time. You could also consider laminating them if you have access to a laminator. This will help protect them from dirt and moisture while preserving the colors and sharpness of the image.
Finally, why not frame the artwork? Not only will this give it some extra protection against environmental damage, but it'll also create an eye-catching centerpiece for any room in your home!
Framing your unicorn valentine coloring page is a great way to show off your artistic talents and keep your special creation safe for many years to come.
Conclusion
Well, there you have it. Unicorn Valentine Coloring Pages are a great way to add some fun and creativity to your Valentine's Day. Whether you're looking for a fun activity to do with your kids or want to show someone special that you care, coloring pages are sure to please.
So go ahead and embrace the joys of coloring this Valentine's Day – I guarantee it'll be worth your while!