Hi, basketball fans! Here are free Tampa Bay Rays coloring pages. The pdf version is also available here. So, please prepare your desired colors and color them.
The Tampa Bay Rays are a relatively young professional baseball team based in St. Petersburg, Florida. The franchise competes in Major League Baseball's East division's Eastern division.
Printable Tampa Bay Rays Coloring Pages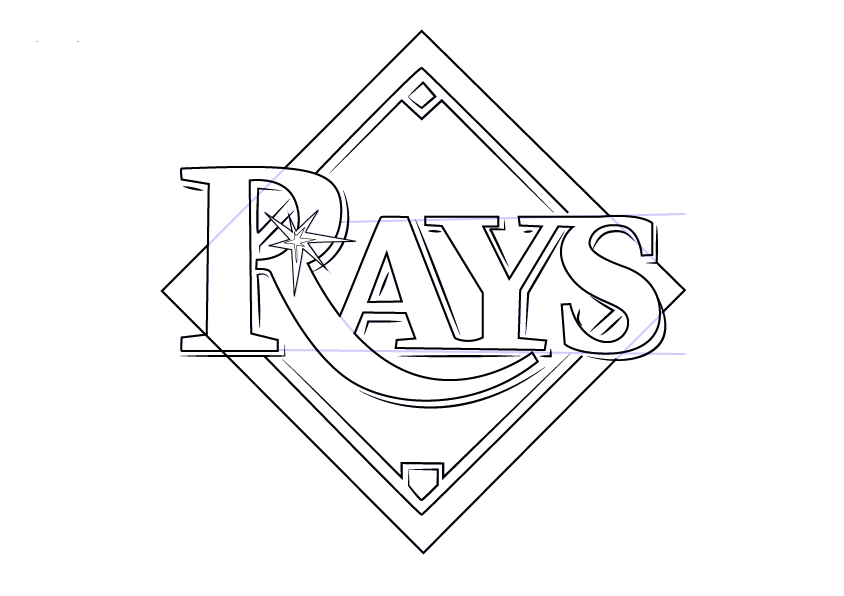 Most recently, the Tampa Bay Rays slightly changed their logo. The modern version was adopted in 2019.
It is based on the previous version, from which the baseball field, which served as a background for the word "Rays", disappeared.
The developers have increased the inscription in the updated version, leaving everything else unchanged.
As before, "R" is depicted with an extended leg in the form of an inverted arc or wavy crest. It connects to "A" and reaches " Y " 's the lower notch.
All elements have a double border on the right, which forms a shadow, creating a 3D effect. There is a bright star in the upper half of the capital letter with seven sharp rays of different lengths.
The Tampa Bay Rays are in the American League East Division, including the Baltimore Orioles, Boston Red Sox, New York Yankees, and Toronto Blue Jays.
The team was added to the League in 1998 as an expansion team and currently plays its home games at Tropicana Field since joining the League.
Their current manager is Joe Maddon. The word Rays means (Rays of light). The team's uniform has a stingray on one of its sleeves as a reminder of its initial name when it started in the Major Leagues.
There was an unsuccessful attempt to obtain an expansion franchise for nearly three decades since there were already teams in the Tampa Bay region.
But a group of yacht owners led by Vince Naimoli obtained the franchise in 1995. In the 1998 season, the Tampa Bay Stingrays entered the Major Leagues via the American League.
Download Tampa Bay Rays Coloring Pages Pdf