This page contains a selection of library coloring pages for free. The images are available to be printed. Please choose your favorite here and have fun.
The Library is a collection of books correctly classified and ordered, for reading and consultation of the public, especially students, researchers, and lovers of reading.
Free Library Coloring Pages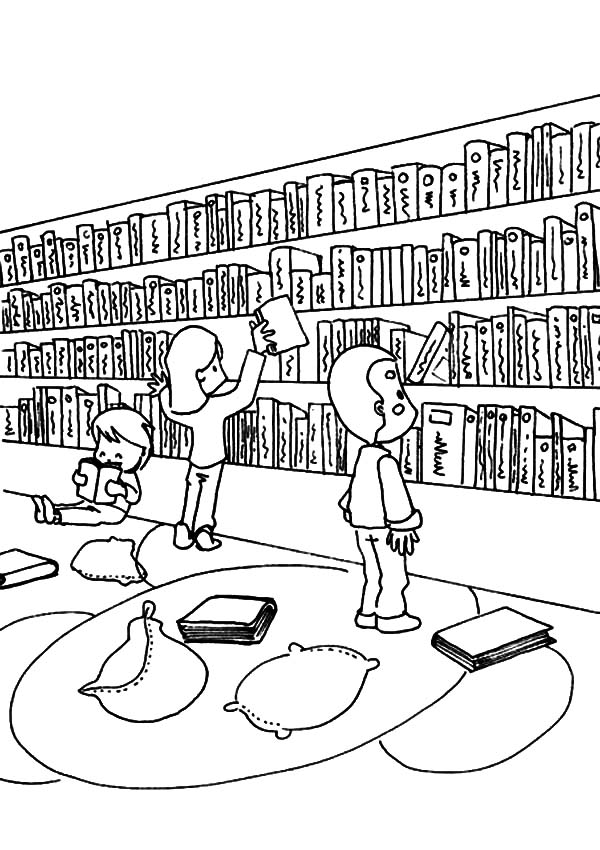 The fundamental tasks that justify the existence of a library are to form the collection, organize it, and put it in service. The Library aims to provide its users with access to the document and access to and location of information.
In libraries, you can find books of any area of knowledge made available to the public so that they can consult or borrow them. Users have at their disposal spacious rooms equipped with desks and chairs and the assistance of librarians (library staff).
Large libraries also have special departments such as the periodicals library (a place where periodicals are kept and loaned) and rooms where the public can have access to photographs, videos, music discs, computer discs, CDs, etc. Nowadays, libraries offer information about their collections through the Internet.
All libraries offer resources for research, problem-solving, information needs, and reading enjoyment. Libraries can be divided depending on their collections and target audience and can be national, public, university, school, classroom, and mobile.
The Library is a space for study and consultation, in which we must be silent or speak quietly so as not to disturb the work of others. Likewise, its books, services, and facilities are helpful for everyone, and therefore we must take care of them and conserve them.
Libraries have a file to classify by subject and keep in alphabetical order (by author or by title) the catalog cards of all their books. Currently, this file information can be found in the computers of these institutions to facilitate the data better.
The catalog graphic card contains the name of the author, title, and other information about the book and the number or code that the Library assigns to the reader to facilitate its location.
Download Library Coloring Pages Pdf