Cincinnati Reds is an American professional baseball franchise based in Cincinnati, Ohio. The Reds played in the National League (NL) and were founded in 1882.
Now, you can get the Cincinnati Reds coloring pages here. The following pictures are ready to print. Get the images and color them as you like. Happy coloring.
Free Cincinnati Reds Coloring Pages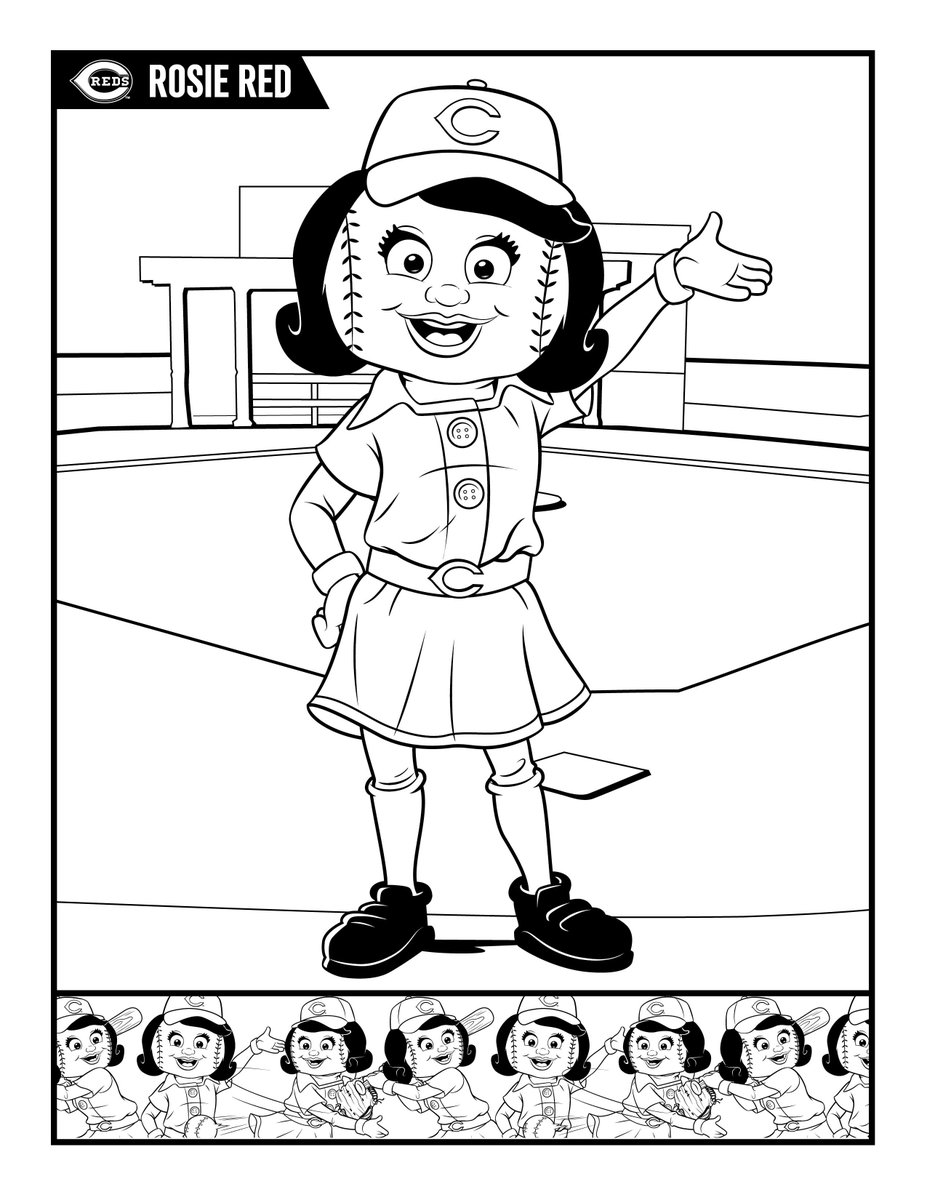 Cincinnati Reds have won five World Series titles (1919, 1940, 1975, 1976, 1990) and nine NL pennants. They claim to be home to the first truly professional baseball team, called the Red Stockings, which played in 1869 and was undefeated in its first 81 games against amateur clubs.
While 1882, the year a Red Stockings club that included some members of the banned NL team joined the fledgling American Association (AA).
Major League Baseball officially recognized it as the first year of the current franchise. Most Cincinnatians consider the Reds the oldest franchise in baseball. The Reds organization itself includes these early clubs in its history.
In their first season, the Red Stockings finished atop the AA and posted winning records in most of their eight years in the league. The team returned to the NL in 1890, the same year it shortened its nickname to "Reds."
Cincinnati fielded several mediocre teams through the late 19th century and early 20th, never finishing higher than third place in the NL until 1919.
However, Cincinnati's success was short-lived, and by the mid-1920s, the team was back at the bottom of the NL for a long stretch, including four consecutive last-place finishes from 1931 to 1934.
In 1938, young Reds pitcher Johnny Vander Meer became the only player in baseball history to pitch no-hitters in consecutive starts.
Vander Meer was part of a core of players that also included future Hall of Fame catcher Ernie Lombardi and led the Reds to NL pennants in 1939 and 1940 and a World Series victory in his final season.
In 1956 Cincinnati called up outfielders rank Robinson from the minor leagues, and he quickly became one of the game's biggest stars.
In the 1970s was dominated by the Cincinnati teams known as the "Big Red Machine ", which had left Crosley Field, with its distinctive left-field terrace, for a new home, Riverfront Stadium.
Boasting a regular lineup that included three future Hall of Famers and all-time Major League leader Pete Rose, the Big Red Machine, under managers park Anderson, won five division titles in the first seven years of the decade.
Download Cincinnati Reds Coloring Pages Pdf