Crazy about the adult coloring trend, but ready to go a little deeper into this fun and relaxing activity? Here are ten tips sure to make coloring even more fun, inspiring, and stress-reducing.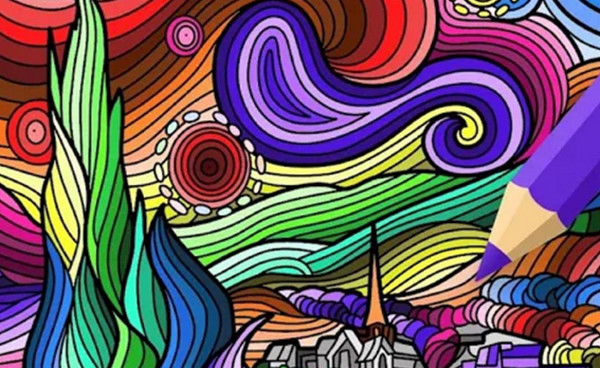 1. Explore creative coloring techniques.
Coloring doesn't have to stay between the lines like you were taught in grade school. Instead of solid colors, experiment with dots, lines, shading—even doodling your designs. Why not practice design instead of just coloring?
2. Experiment with a variety of coloring media—pens, pencils, crayons, and markers.
You can achieve dramatically different results depending on what you use to color your pages. Try it all, even good old-fashioned crayons, to find your style.
3. Host a coloring party.
Grab your favorite coloring books, your markers, and beverages of choice, and color the night away with your friends or family!
4. Share your work.
Join a Facebook coloring group or share on Instagram– follow the hashtags #coloringbook and #coloriage to see some beautiful inspiration! You can also start your coloring club, a "reality-based" club that meets in the physical world, or an online affair.
5. Get framed.
Now that you've got a stack of beautifully colored pages, find ways to frame and display your beautiful works of art. They look great as art prints, matted or not.
6. Craft your heart out.
Think of your coloring pages not as the end of your art project but the beginning. Make some colorable envelopes, decorative frames, or even gift wrap and tags. We put self-adhesive laminate on top of coloring pages and used magnetic sheets on the back to create these colorful magnets. Craft as imaginatively as you color and you can't go wrong.
7. Create your own "Coloring Nook."
Everyone needs a little space of their own, for coloring or just creative "me" time in general. Use your new-found coloring craft ideas to decorate your own cozy, personal paradise.
8. Color in public.
Now that adult coloring is everyone's favorite new hobby, it is okay to color in public. Waiting rooms, airports, in the office or school—use coloring's calming powers to keep cool in a stressful place, or just to make a bland experience more colorful.
9. Color your wardrobe.
Try coloring on black and white fabric. I used fabric markers to color a border around the bottom of this dress.
10. Take color off the page.
Ready to branch out from coloring books? Try coloring anything and everything in your home, office, the world! I've colored furniture, picture frames, even the walls of my home and art studio if you're like me, at a certain point you'll start creating your designs to color, too, on and off the page.
If you go to youtube, you can find a lot of coloring pages videos, Such as the one below.
Enjoy your coloring time!