Sled is a vehicle for sliding on snow and ice, equipped with skis or skates instead of wheels. You can see it in the following sledding coloring pages to print below.
Sledding with friends and family has been a winter ritual for generations. Wherever there's snow and a hillside, you'll find people sledding.
Free Sledding Coloring Pages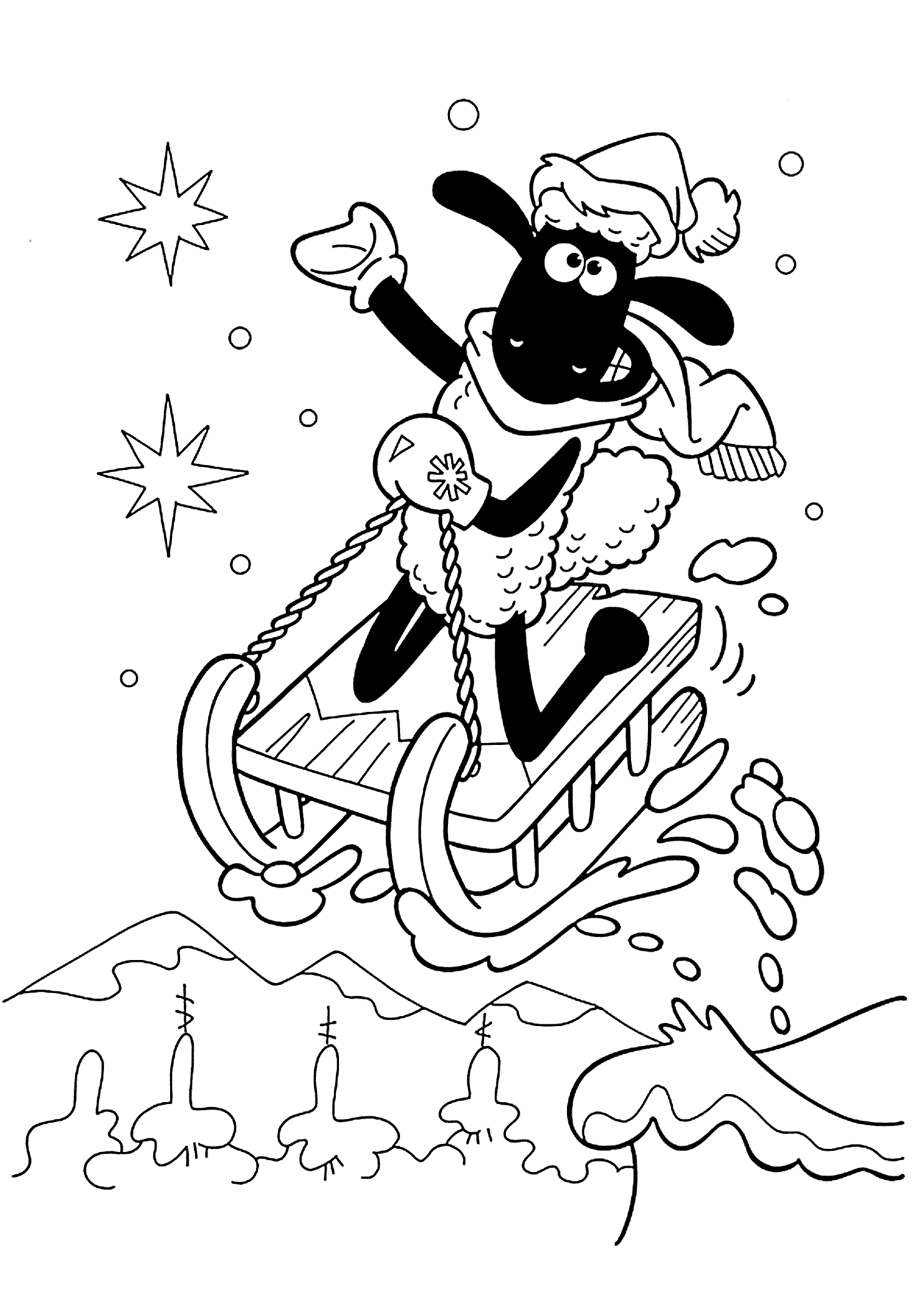 You probably went sledding as a child and will want to share such a fun activity with your children. But sledding can also lead to injuries, some of them quite serious.
To ensure your children's safety while sledding, make sure they follow these tips. While it may seem harmless fun, sledding injuries send tens of thousands of children to hospital emergency rooms each year.
More than half of these injuries are head injuries, which can be very serious and fatal. Statistics show that sledding is associated with more crash injuries than skiing or snowboarding.
When the mountains are covered with snow, they may seem like perfect places to sled, but be very careful when choosing a site for your children to sled.
Not all slopes are safe. Here are some tips to follow when choosing a suitable sledding spot: Choose a hill that is not too steep and has a large, flat area at the end where your children can slow to a stop.
Sledding down the slope has been and continues to be one of the most popular forms of snow fun. It is an activity that both children and adults enjoy, requires no specific training, and is very easy to practice.
Although it does not involve great dangers, sledding can cause injuries, and specific rules must be followed to enjoy it safely.
In addition, as it is generally practiced during the winter, it is advisable to wear the appropriate clothing to avoid the rigors of the weather.
It is an activity for all ages. However, most of the users of sleds are children, and it is with them that we must be more careful since they are the most vulnerable to the cruelties of cold environments.
It is essential to wear warm clothing and an additional waterproof layer to keep us warm and dry. It is also necessary to wear gloves, a hat, appropriate footwear, ideally those models made with moisture-repellent materials.
In the beginning, sleds were used as vehicles for transporting loads and people. As has happened so many times before, the competition was not long in coming.
Sled or downhill races have thousands of fans, especially in the Nordic countries, where many children race sleds even before they can walk.
Today we can find different sports disciplines, some of the Olympic, in which the sled is part of the equipment to develop them:
Mushing or dog sledding: These are races in which the sled is pulled by dogs, with the number of dogs varying.
The bobsleigh or bobsled is an Olympic winter sport that consists of the descent through a track built on the ice, where teams of 2 or 4 people can compete on a bladed sled.
Luge: also an Olympic sport. The descents are made on the same tracks as bobsleigh. The sled is very simple, and one or two occupants descend on it lying down and with their feet in front of them.
Skeleton is the third Olympic sport and the oldest of the downhill sled sports. Very similar to luge, the rider lies face down on the sled with his head forward in the skeleton.
Download Sledding Coloring Pages Pdf